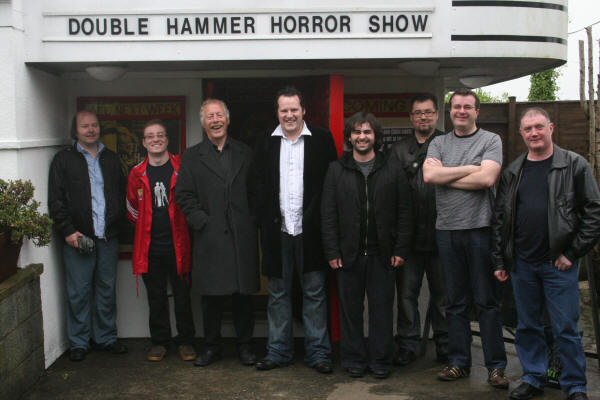 Some of the attendees of the Hammer Horror course at Queen's University Belfast, outside the Excelsior cinema on 21 June 2008. Photo ©RJE Simpson 2008, All rights reserved.
From left to right: Raphael Marrinan ; Paul Hutchinson; Roy Spence (owner of The Excelsior); Robert J.E. Simpson (tutor); Raymond Cummings; Mark McKeown; Sean McDonald; Stephen Walsh.
The short course on Hammer Horror being run at Queen's University Belfast as part of the Open Learning scheme, came to a close last weekend (21 June). Taught by unofficialhammerfilms.com editor, Robert Simpson, the five week programme provided an overview of Hammer's complex history and sought to address the issue of what exactly constitues a "Hammer Film". A special sixth class was organised which included an educational visit to The Excelsior cinema, a private venue near Comber in County Down owned by filmmaker Roy Spence. The private event took advantage of the venue's period dressing and sought to present a programme which emulated a genuine late 1960s cinema-going experience. Robert believes "in order to properly appreciate the success and attractions of Hammer films, one needs to look at the way they were marketed and experienced by audiences. Rather than look through our tinted-glasses of hindsight, we need to try and get into the minds of audiences of the time, and this seems like the perfect way to do it. It provides a great fun day out and a real talking point for the course too."
The group was treated to a four-hour programme which included trailers and newsreel footage from 1959, the short Hammer drama-documentary about Ireland - O'Hara's Holiday - and Hammer features The Mummy and The Man Who Could Cheat Death. During the screening attendees were treated to ice lollys and cartons of juice in the best 1950s style.
In a nod to the giveaways of the 50s and 60s, each member of the class received a sheet featuring miniature reproductions of the American lobby card set for The Mummy, and copies of the new Hammer Horror stamps.
A longer, ten week version of the course is also being developed for January 2009 and Robert is looking to take the project to other areas.
For more information on future courses, or to speak to Robert about running one in your area, email him on robert@avalard.com