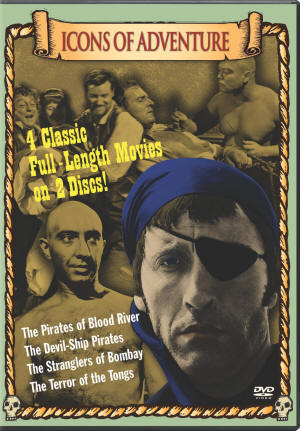 cover art for SPHE's release of "Icons of Adventure", available June 2008
click on the image to purchase
The first eagerly anticipated release of the Hammer/Columbia films hit shelves in the USA this week in a special 2-disc set from Sony Pictures Home Entertainment.
The Icons of Adventure set includes four rarely-seen Hammer titles including The Pirates of Blood River, The Devil-Ship Pirates, The Stranglers of Bombay and The Terror of the Tongs. Of these, only Devil-Ship Pirates has been legitimately released on dvd before - by Warner Bros in the UK several years ago.
Each of the titles has been remastered in "high-definition", and is featured in its original aspect-ratio. The disc is supplemented with obscure (non-Hammer) shorts from the Columbia catalogue, and each feature has a commentary moderated by Marcus Hearn. Contributors include Jimmy Sangster, David Z Goodman and Don Mingaye.
Last year an announcement on the official Hammer Films website revealled that DD Home Entertainment in the UK had reached a deal with Sony and Hammer to release 13 of the much-sought after titles starting last autumn. During the summer of 2007 DD's parent company was bought over and the company became Simply Home Entertainment - and it now appears that the rights to release the titles did not transfer with the arrangement.
The release in the US of these titles is a significant development in terms of the Hammer catalogue. As we have reported previously, the Columbia titles are amongst those most frequently offered by bootleggers and includes a number of classic horrors, comedies and war pictures. Columbia hold rights to something like 25 titles, few of which have legally seen the light of day on any domestic format (including laserdisc, vhs, and dvd).
Icons of Adventure
Features:
The Pirates of Blood River
The Devil-Ship Pirates
The Stranglers of Bombay
The Terror of the Tongs
Aspect Ratio: All 16x9 enhanced. Presented in 2.35:1 (The Terror of the Tongs in 1.66:1). NTSC. Colour (Stranglers of Bombay is B&W)
Sound: English; French (DUB).
Subtitles: English; French
Extras: Commentaries; Merry Mutineers; The Great Adventures of Captain Kidd - chapter one
SSP: $24.96
To order ICONS OF ADVENTURE, click here.