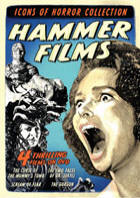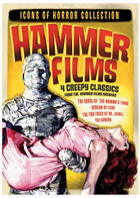 Further to our news story last week, we can now confirm that the second of Sony's Hammer Film collection sets is being released in October in the USA. The dvd will be region 1 encoded, and each of the films will be digitally remastered, in the original aspect ratio. LIkely extras include commentaries.
The set includes Taste of Fear, The Curse of the Mummy's Tomb, Two Faces of Dr. Jekyll and The Gorgon.
With the exception of The Gorgon, each of the films was made in a scope ratio of approximately 2.35:1, whilst The Gorgon should be around 1.66:1. All bar Taste of Fear are in colour.
There is some uncertainty regarding which print is being used for Taste of Fear - also known as Scream of Fear. The film has previously been available on dvd in Japan, whilst Curse of the Mummy's Tomb, long available on laserdisc and video in a fullscreen transfer, was released in a scope print on dvd by Sony in the UK a couple of years ago.
The Two Faces of Dr. Jekyll has never been released on dvd, and has had few television screenings in recent years.
Following on from some of the meagre and irrelevant extras (the non-Hammer material) on the recent Icons of Adventure set, Unofficialhammerfilms.com hopes that Sony might put some extra effort in for this release. Further commentaries would be welcome, and we'd like to see as a minimum theatrical trailers and if possible galeries or pdfs of advertising material, posters, pressbooks etc. Enthusisastic fans would probably appreciate having an option to view both the Taste and Scream of Fear titles (which could be provided via seemless breaching).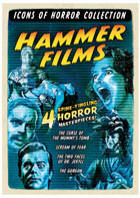 Something similar could be tried with The Two Faces of Dr. Jekyll which has a troubled history. Released in the UK as The Two Faces... in the US it was retitled as both House of Fright and Jekyll's Inferno. We'd like to see the alternate titles available on the dvd as well.
Fans will take some comfort in an attempt to design a better cover than the woeful Icons of Adventure box offered. Amazon are currently holding a poll on their website to determine which of three covers is going to grace the dvd. The three options are republished on this page.