last update 25 August 2006
for current news click here
for older news items
2007 |2006 (Jan-June) (July-Aug)
| 2005 | 2004 | 2003 | 2002 | 2001 | 2000 | 1999
THE QUATERMASS MEMOIRS
Mercandise News 20.05.06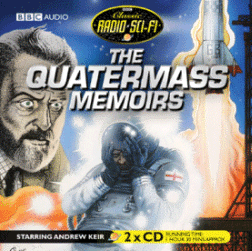 "The Quatermass Memoirs"
featuring Andrew Keir and Nigel Kneale
released BBC Audiobooks, 3rd July 2006
RRP: £12.99
BBC Audiobooks are releasing the mini-series The Quatermass Memoirs, on cd on 3rd July. The series takes a nostalgic look back through the adventures of Professor Quatermass on tv and film, alongside interviews with creator Nigel Kneale. The series was narrated by Andrew Keir, who had played the part of the Professor in Hammer's 1967 film Quatermass and the Pit. The series includes extracts from Hammer soundtracks, was broadcast on BBC Radio 3 in 1996, and was also Keir's last recorded work - he died not long after.
The series is being released on a 2 part cd, and retails for £15.99.
Pre-order your copy for £12.99 here.
HAMMER NOIR - FIRST PHASE
US DVD News 20.05.06
After waiting for months VCI/Kit Parker have finally announced the cover art and release dates for the HAMMER FILM NOIR series, featuring Hammer's 1950s collaborations with Robert Lippert in the USA. Many of these films have never legitimately been released on dvd before, and all have been restored. Extras are still unclear, but include Bios, Trailers, and something called "World of Hammer Noir" (which I don't believe to be from the oft-used World of Hammer tv series).
The first three volumes are being released in a special collector's set on 30 May, with an SSP of $29.99. The set includes all six films from the first wave of release (with more following later in the year). You can order the set here for only $20.99.
Then on 25 July each of the three volumes is released individually, with two films on each set. The volumes retails for $14.99 each (pre-orders available for $10.99). Details below:
VAL GUEST : 1911-2006
Obituary 14.05.06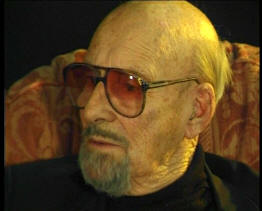 Val Guest, interviewed in 2003 by Marcus Hearn for DD's dvd release of The Quatermass Xperiment. Image ©DD Home Entertainment
It is with great sadness that we have to announce the death of veteran Hammer director VAL GUEST, at the age of 94, in his adopted home of Palm Springs on Wednesday (10th).
Guest's death was revealed on the pages of the Classic Horror Film Board before being picked up by a selection of other fan discussion boards. According to the initial report on the CHFB Guest had been in remission from prostate cancer until it came back a few weeks ago and quickly spread to his kidneys. He died in a hospice on Wednesday night with his wife of 52 years, Yolande Donlan, beside him.
Val Guest was born in London on 11 December 1911. His career in film began in the 1930s with work on a number of early British sound films including work for Arthur Askey and Will Hay. He would try his hand at acting and writing before directing his first feature in 1943. In 1954 Guest produced his first films for the expanding Hammer film company, handling directorial duties on Hammer's first colour feature, the swashbuckling Men of Sherwood Forest and the internationally flavoured Hammer comedy Life With the Lyons, which Guest also wrote for his friends, the American Lyon family - a popular variety act.
Guest would be a regular writer/director for Hammer during the rest of the 1950s directing a range of comedy, sci-fi and war films, earning much respect from cast and crews, using variations on his own "rep" of actors, and a distinctive verite style to his filming which lent his science fiction and war films an uncomfortable feeling of reality, echoing the newsreel features of the time. Following on from The Lyons in Paris (1955) and Break in the Circle (1955), Guest was given the task of adapting Nigel Kneale's BBC serial The Quatermass Experiment from a 3 hour serial to a 90 minute feature. The resulting film The Quatermass Xperiment (1955) launched Hammer on the road towards exploitation features and horror, earning a great deal of money for the company and grabbing headlines after Variety reported the death of one of the audience in the US from a heart-attack during a screening.
Val Guest's Hammer Films as director
Men of Sherwood Forest (1954)
Life with the Lyons (1954)
The Lyons in Paris (1955)
Break in the Circle (1955)
The Quatermass Xperiment (1955)
Quatermass II (1957)
The Abominable Snowman (1957)
Up the Creek (1958)
Further Up the Creek (1958)
The Camp on Blood Island (1958)
Yesterday's Enemy (1959)
Hell Is A City (1960)
The Full Treatment (1961)
When Dinosaurs Ruled the Earth (1970)
Hammer House of Mystery And Suspense: Child's Play (1984)
Hammer House of Mystery And Suspense: In Possession (1984)
Hammer House of Mystery And Suspense: Mark of the Devil (1984)
Kneale was never happy with Guest's support for fading American star Brian Donlevy as the brash Professor Quatermass, but nonetheless the trio reunited for Quatermass II (1957), and Guest would also handle Kneale's The Abominable Snowman (1957).
The latter would utilise a scope ratio which Guest would use for many of his future films, filing the frame with beautiful compositions and a mastery of black and white photography. 1958 saw Guest handle the Peter Sellers vehicle Up the Creek for Hammer/Exclusive, and its sequel Further Up the Creek starring Frankie Howerd. The nautical comedies would be followed by two critically acclaimed war pictures, both disgracefully still unreleased on dvd. Camp On Blood Island (1958) was a sensationalist colour picture shot in megascope which dealt with the atrocities of World War II, and the Japanese war crimes. The novelisation of the film which was co-written by Val Guest and J.M. White would go on to become the most reprinted novel of any Hammer adaptation, reprinted eight times alone in 1958, and a further fifteen times by 1972.
Yesterday's Enemy followed in 1959, a shockingly stark depiction of the Japanese struggle during the war. Rarely seen, and seldom in its brilliant black and white scope ratio, the film paints an uncomfortable balance between both sides in the bloody struggle, eschewing the use of any incidental music right including during the credit sequences. Guy Rolfe, Leo McKern, Stanley Baker and Gordon Jackson give superb performances. The film earned a number of BAFTA nominations including Best British Actor for both Baker and Jackson, Best British Film for Val Guest and Best Film From Any Source for Val Guest.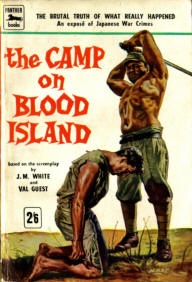 The Camp on Blood Island novelisation was Hammer's most reprinted novel. Co-written by Val Guest
Stanley Baker would also be starring in Guest's 1960 picture for Hammer - Hell Is A City, a brilliant portrait of a man on the run across Manchester with Baker as the past-his-best cop trying to clear things up. Utilising location filming in the streets of Manchester itself, Hell echoes Carol Reed's Odd Man Out with its stark realism and gritty urban feel. It would similarly earn BAFTA nominations for Best British Screenplay for Val Guest, and Most Promising Newcomer to Leading Roles for Billie Whitelaw.
Either side of his next Hammer picture The Full Treatment (1961), Guest would direct the critically acclaimed Cliff Richard starring Expresso Bongo (1960), and the brilliant nuclear apocalypse narrative of The Day the Earth Caught Fire (1961). Nominated for a Hugo, the film also earned Guest and co-writer Wolf Mankowitz a BAFTA for Best Screenplay in 1962. During the 1960s and 1970s Guest would continue to write, produce and direct. In 1967 he was one of five directors to tackle parts of the James Bond spoof, Casino Royale (writing substantial amounts of material too), and in 1970 he came back to Hammer to tackle the prehistoric opus When Dinosaurs Ruled the Earth. A film without dialogue, it brought together the usual feuding tribes and animated dinosaurs to earn Hammer an Oscar for its special effects.
Guest's last work as a director came in 1983, perhaps fittingly back at Hammer, handling three episodes of the Hammer House of Mystery and Suspense series - In Possession; Mark of the Devil and the fan-favourite Child's Play.
Popular with industry professionals and fans alike, Guest long ago moved to the United States, residing in Palm Springs, with frequent trips to festivals around the world. In the mid 1990s Guest's star was in ascendant once more and the director was happily discussing plans by Hollywood studios to remake several of his films including Expresso Bongo. Hammer too were planning to remake several of his films in 1996, as part of a multi-million dollar deal with Warner, including The Quatermass Xperiment, and Guest's (originally non-Hammer) The Day The Earth Caught Fire. Despite the deal eventually falling through, Guest continued to happily discuss his lengthy career with fans across the globe, and recorded commentaries for laserdisc and dvd release of a number of his films. In 2001 he published his autobiography So You Want to Be In Pictures...
In his 90s, Guest showed no signs of slowing up, and was looking forward to attending the Golden Age of British Horror retrospective at the Egyptian Theatre in LA next month, until illness took a hold and he had to cancel. Val Guest's legacy is that of a brilliant film director, and as an accomplished screenwriter, producer and sometime songwriter too! He was without doubt the finest director to ever walk through the doors of Hammer, and without whose skill during Quatermass we would likely never have seen The Curse of Frankenstein and the rest of the Hammer horror cycle. His best pictures have a genuinely timeless quality that will last and impress for decades to come. His absence will be felt by fans around the world.
Our sincere condolences to Yolande and the rest of Val's family and friends.
Val Guest
11 December 1911 - 10 May 2006

HAMMER FILMS on Myspace
Corporate News 11.05.06
Hammer continues its embracing of new media, and we can reveal that Hammer will shortly be officially launching their own myspace.com profile, providing an alternate source of information to work alongside HammerWeb. The site is to make use of the vast network of people across the globe that have signed up for the myspace provider. Hammer have secured their spot on the network, and will be launching properly in the next few weeks. Users of myspace may want to add Hammer to their friends list now to be amongst the first to receive updates.
Myspace was bought over by the Rupert Murdoch empire last year for some $580m. The service is free to use, with contributors hosting their own personal profiles, photos, videos, music and blogs. Many companies have seen the benefits of myspace as a marketing tool, and whilst myspace has been subject to abuse from assumed identities, Hammer have confirmed the myspace site to us here at the Unofficial site.
The Hammer myspace page is at: www.myspace.com/hammerfilms
FANTASTIC FILMS WEEKEND 2006 - BRADFORD UK - UPDATE 2
Festival News 11.05.06
The line-up for the Bradford Fantastic Films Weekend gets better and better. The latest news (see below) includes the news that a new 35 mm print of Hammer's HOUND OF THE BASKERVILLES will be screened. Hammer fans might also be pleased to hear director Robert Feust will be in attendance and that there will be screenings of AND SOON THE DARKNESS (by Brian Clemens), and the BBC NINETEEN EIGHTY-FOUR.
Go to www.nmpft.org.uk/fantastic for more.
Full details below:
Festival news # 2
09/05/2006
The Fantastic Films Weekend - the UK's fastest growing festival of science fiction, horror and fantasy - is almost upon us. In our second e-newsletter you will find an update on the films and special guests who will join us for our fifth annual celebration of classic cinema fantastique hosted by the National Museum of Photography, Film & Television in Bradford
JEREMY DYSON signs up as FFW patron
The League of Gentlemen's Jeremy Dyson has joined the ranks of the Fantastic Films Weekend as the festival's very first patron. Alongside his work as one quarter of the League, Jeremy is also an author, musician and filmmaker. A dedicated aficionado of 1960s and 1970s horror from the Hammer and Amicus stables he feeds such influences into his work, thus ensuring the style and atmosphere of that era live on in the 21st century.
We are delighted to have him on board.
Phibes filmmaker ROBERT FUEST joins 2006 FFW line-up
Writer/director Robert Fuest - of Dr Phibes fame - has confirmed he will attend FFW.
Bob cut his teeth on The Avengers. As a feature film director he enjoyed success with both The Abominable Dr Phibes and its sequel, Dr Phibes Rises Again! before moving onto The Final Programme, an adaptation of the Michael Moorcock novel and the classic that is The Devil's Rain. His other films include the Brian Clemens scripted And Soon the Darkness and a particularly gothic rendering of Wuthering Heights .
Bob will be with us throughout the weekend and will be talking part in a 'Screentalk' interview about his career in fantasy TV and cinema. FFW hopes to screen both And Soon the Darkness and The Final Programme during this year's event.
TV from the vaults
The NMPFT's TV Heaven archive is to screen an array of rarely seen programmes from its vaults as part of this year's Fantastic Films Weekend. There will be presentations of Rudolph Cartier's Nineteen Eighty Four, starring Peter Cushing and André Morell, and Peter Watkins' devastating docu-drama The War Game, about the aftermath of a nuclear attack on Britain. Other titles being considered for inclusion are Nigel Kneale's The Year of the Sex Olympics, a 1960s Horizon special featuring footage from the 'lost' TV play The Caves of Steel and episodes of Kinvig, The League of Gentlemen and Out of the Unknown .
Big screen blockbusters
Fans of comic strip action will want to soak up Batman Begins and V for Vendetta. Both films will be playing on the giant Imax screen during the 5th Fantastic Films Weekend.
Even more films
Titles added to the 2006 schedule include Robin (The Wicker Man) Hardy's The Fantasist , new prints of Theatre of Blood and Hammer's The Hound of the Baskervilles, the 1990s serial killer chiller White Angel and Murnau's Nosferatu complete with live musical accompaniment by pianist Terry Ladlow.
And there is still more to come!
Picture gallery added to FFW website
Catch up with some of the people who have been to the Fantastic Films Weekend over the past five years via our website's new photo gallery. Here you'll find some familiar faces plus the odd werewolf. Check out the website on www.nmpft.org.uk/fantastic

Passes for the 5th Fantastic Films Weekend are available at £35 (Weekend; £30 concessions and Friends of Film) and £15 (Day; £12.50 concessions and Friends of Film) from the Box Office on 0870 70 10 200.

THE GOLDEN AGE OF BRITISH HORROR 1955-1975 - Egyptian Theatre, LA
Festival News 11.05.06
As if the news (see above) that a new print of Hammer's Hound of the Baskervilles is playing the UK in June, we've received the schedule this week for a massive three week British horror retrospective taking place in LA in June, that will delight many Hammer fans, and will no doubt enrage those of us poor enough to live in the UK!
A number of rarely seen Hammer pics are being lined up including REVENGE OF FRANKENSTEIN (new 35 print), FRANKENSTEIN MUST BE DESTROYED (IB Technicolor print), HORROR OF DRACULA, TASTE THE BLOOD OF DRACULA (IB Technicolor Print), STRANGLERS OF BOMBAY, THE DEVIL RIDES OUT, THE GORGON (new 35mm print), TWO FACES OF DR JEKYLL (new 35mm print), THE QUATERMASS EXPERIMENT, QUATERMASS II, THE NANNY (new 35mm print).
Now if someone will kindly pay for my flights and accommodation I'll be joining you there....
The website for the event to book and full schedule info is here
THE GOLDEN AGE OF BRITISH HORROR: 1955 – 1975

June 8 – 25 at the Egyptian Theatre

Although there was an occasional horror thriller hailing from British shores pre-1955 (such as DEAD OF NIGHT), it wasn't really until 1956 that Great Britain, initially represented by Hammer studios, took the bull by the horns. As the story goes, esteemed writer Nigel Kneale's crackerjack sci-fi TV mini-series, THE QUATERMASS EXPERIMENT, was so popular, Hammer secured the rights to turn it into a film. They hired American character actor Brian Donlevy to play the no-nonsense scientist Quatermass, veteran filmmaker Val Guest to direct and lopped off the first 'E' in the film's title (as in 'XPERIMENT') to play up the picture's British X rating. The result was immensely successful, especially considering the movie's budget. It was a stunning achievement – a sci-fi thriller edited at a rollercoaster pace with a wellspring of nearly gothic horror imagery. Hammer deduced that the gruesome tone gripped audiences most, as well as for its sequel QUATERMASS II. For their next efforts, they decided accordingly to go all the way with the macabre, gothic slant. Before you knew it, superb in-period chillers CURSE OF FRANKENSTEIN and HORROR OF DRACULA were hitting cinemas worldwide and raking in returns at the box office. The rest, as they say, is history. Sequels (REVENGE OF FRANKENSTEIN, BRIDES OF DRACULA, et. al.) and other spinetingling, gorgeously-shot one-offs (TWO FACES OF DR. JEKYLL, THE GORGON, PLAGUE OF THE ZOMBIES, et. al.) followed from Hammer. Other small UK studios, most predominantly Anglo-Amalgamated (HORRORS OF THE BLACK MUSEUM), Amicus (TORTURE GARDEN, THE SKULL, et. al), Independent Artists (BURN, WITCH, BURN) and Tigon (CORRUPTION, BLOOD ON SATAN'S CLAW), as well as indie producers like Robert Baker & Monty Berman (THE CRAWLING EYE, JACK THE RIPPER, et. al.), Robert Lippert (WITCHCRAFT) and Harry Alan Towers (FACE OF FU MANCHU) followed suit.

Please join us for this spectacular, three week retrospective of some of the most chilling pictures from this classic era, including new prints of such films as REVENGE OF FRANKENSTEIN, HORROR OF DRACULA, THE GORGON, TWO FACES OF DR. JEKYLL, WITCHCRAFT and THE NANNY (one of Bette Davis' best later films) as well as ultra-rare screenings of FACE OF FU MANCHU, CORRUPTION, THE SKULL, QUATERMASS II and I START COUNTING (featuring one of Jenny Agutter's first leading roles). Note: If you don't spot some of your favorite vintage British horror films listed, it's either because we have shown them fairly recently or because decent prints were just not available!

Series compiled by Chris D.

Special Thanks: Michael Schlesinger, Susanne Jacobson, Grover Crisp & Helena Brissenden/SONY REPERTORY; Caitlin Robertson & Schawn Belston/20th CENTURY FOX; Cary Haber/CRITERION FILMS; Marilee Womack/WARNER BROTHERS; Snowden Becker/ACADEMY OF MOTION PICTURES, ARTS & SCIENCES; Todd Wiener/UCLA FILM AND TELEVISION ARCHIVE; Emily Horn/PARAMOUNT REPERTORY; Lisa Jackson, Rick Senat and Terry Ilott/HAMMER FILMS, UK; Simon Hill/CINESERVE; John Herron/CANAL + IMAGE, UK; Wade Williams; Michael Hyatt; Bruce Chambers.

Thursday, June 8 - 7:30 PM

Peter Cushing/Terence Fisher Double Feature:

New 35mm Print! REVENGE OF FRANKENSTEIN, 1958, Sony Repertory, 94 min. Director Terence Fisher's sequel to the first film, CURSE OF FRANKENSTEIN, is the high point of the series, and one of Hammer studio's most satisfyng gothics. Working incognito in a hospital for the poor, "Dr. Stein" (Peter Cushing) transfers the brain of his deformed assistant into the body of the "perfect man" (Michael Gwynne), but fails to account for the transplanted brain's nasty image of itself. With Francis Matthews.

IB Technicolor Print! FRANKENSTEIN MUST BE DESTROYED, 1969, Warner Bros., 101 min. One more came afterwards (FRANKENSTEIN AND THE MONSTER FROM HELL), but director Terence Fisher's last major gothic was really the end of the Hammer FRANKENSTEIN cycle as he had originally envisioned it. Shot through with images of dementia and decay – drug trafficking, rape, etc. – this remains the most grimly realistic of the series. Peter Cushing's performance is murderously monstrous – his Dr. Frankenstein is a demon in human form; the equivalent of a concentration camp doctor. With Simon Ward, Freddie Jones, Veronica Carlson.

Friday, June 9 - 7:30 PM

Christopher Lee Double Feature:

HORROR OF DRACULA, 1958, Warner Bros., 82 min. Director Terence Fisher and screenwriter Jimmy Sangster's stripped-to-the basics, expertly-paced take on Bram Stoker's popular bloodsucker remains one of the most satisfying, just plain exciting gothic horror films ever made. From Christopher Lee's revelatory, broodingly romantic performance as Dracula (introducing a sexual frisson to the proceedings) to Fisher's masterful direction, from Peter Cushing's Professor Van Helsing to Jack Asher's atmosphere-drenched cinematography and James Bernard's superb score, this is perfection. One of Hammer studio's most enduring masterpieces!

IB Techinicolor Print! TASTE THE BLOOD OF DRACULA, 1970, Warner Bros., 91 min. Young director Peter Sasdy's fourth film in the Dracula series (along with Fisher's DRACULA, PRINCE OF DARKNESS) is commonly-acknowledged as one of the most satisfying Christopher Lee-starring sequels to the groundbreaking original. Three Victorian "gentlemen" (Geoffrey Keen, John Carson, Peter Sallis) with a habit of looking for new experiences, (i.e., decadent thrills) to "broaden their horizons," make a pact with black magician Ralph Bates, who promptly reanimates the undead count (Lee) from his dried blood and cape. Dracula then proceeds to destroy the men through their vampirized teen-age children (including nubile Linda Hayden), surely one of the most subversive subtexts ever in a Hammer film. Handsomely shot, this was one of the last Hammer pictures to truly look as gorgeous as their earlier efforts.

Saturday, June 10 - 6:00 PM

Giant Monsters Double Feature

X, THE UNKNOWN, 1956, Warner Bros., 80 min. Director Joseph Losey (!) was originally scheduled to helm this surprisingly persuasive sci-fi chiller, but because of the impact of the HUAC blacklist (usually not felt in the UK), he had to drop out. Leslie Norman directs this Quatermass-style knock-off with atomic scientist, Dean Jagger, going up against a blob of intelligent (!), radioactive lava ravenous for any nearby nuclear material. A serious crisis looms as it grows more voracious, threatening a brand new nuclear power plant. The film combines nocturnal gothic imagery with a sober sense of scientific inquiry, bearing all the earmarks of Nigel Kneale's style (although in fact this was Jimmy Sangster's first feature-length screenplay).

THE CRAWLING EYE (aka THE TROLLENBERG TERROR), 1958, Wade Williams, 85 min. Dir. Quentin Lawrence. U.N. investigator Forrest Tucker travels to the Alps to check out a radioactive cloud and soon discovers a herd of one-eyed, octupus-like aliens using the cumulous mist to hide their presence! Also starring the haunting Janet Munro as a girl with psychic links to the invaders. With Jennifer Jayne, Laurence Payne.

Saturday, June 10 - 9:30 PM

Horror Exotica Double Bill:

IB Technicolor Print! FACE OF FU MANCHU, 1965, Warner Bros., 89 min. Maverick producer Harry Alan Towers inaugurated his long-planned-for string of films based on pulp master, Sax Rohmer's master criminal with this slambang thriller from director, Don Sharp (KISS OF THE VAMPIRE). Easily the best in the Fu Manchu series, it's Hammeresque in look and tone, with Christopher Lee perfectly cast as the supremely evil mastermind. The underrated Nigel Green is ideal as Inspector Nayland Smith, the arch-villain's nemesis. Shot in and around Dublin (substituting for 1920's London), with a great sense of period atmosphere. Co-starring Joachim Fuchsberger, Karin Dor, Howard Marion Crawford and Tsai Chin. NOT ON DVD.

STRANGLERS OF BOMBAY, 1960, Sony Repertory, 80 min. Director Terence Fisher works wonders on a meager budget with this ultra-rare, underrated shocker. Intelligent British officer, Guy Rolfe, runs into bureaucratic stupidity as well as cultural snobbery from his superiors as he investigates the mushrooming number of strangling murders afflicting merchant caravans in India. When he gets too close, the Thuggee cult responsible ("Kill! Kill for the love of Kali!"), marks him for death. James Bernard embellishes this sadian saga with one of his most frenetic, over-the-top scores. Merchant-Ivory Productions and director Nicholas Meyer (SEVEN PERCENT SOLUTION) remade it in 1988 as THE DECIEVERS starring Pierce Brosnan in the Rolfe role. NOT ON DVD.

Sunday, June 11 - 6:30 PM

Black Magic Double Feature:

CURSE OF THE DEMON (aka NIGHT OF THE DEMON), 1957, Sony Repertory, 95 min. Jacques Tourneur's masterful chiller about a mysterious string of deaths caused by a black magician (Nial MacGinnis in a great performance inspired by necromancer Alastair Crowley) is one of the most highly-regarded shockers of the '50s, even in its original 83 minute US release. Although prints of the unedited version have circulated for years, they were from umpteenth-generation dupe material and looked pretty awful; this new restoration vividly brings back all the details of Ted Scaife's photography and Ken Adam's sets. Dana Andrews stars, with support from Peggy Cummins (GUN CRAZY) and Maurice Denham.

BURN, WITCH, BURN (aka NIGHT OF THE EAGLE), 1962, Sony Repertory, 90 min. Dir. Sidney Hayers. Professor Peter Wyngarde, a fervent debunker of all things supernatural, discovers that his scholastic success is due to voodoo spells cast by wife, Janet Blair. When he forces her to give up her talismans and spells, the demonic forces of darkness descend, in this much-underrated horror classic that rivals THE INNOCENTS and CURSE OF THE DEMON in intelligent, hair-raising chills. Adapted by screenwriters Charles Beaumont and Richard Matheson from Fritz Leiber's novel Conjure Wife. NOT ON DVD.

Wednesday, June 14 - 7:30 PM

Black Magic Double Feature:

New 35mm Print! WITCHCRAFT, 1964, 20th Century Fox, 79 min. Director Don Sharp's ultra-rare occult scarefest has been one of the most difficult-to-see of all British horror films from the era – until now. Twentieth Century Fox just struck this splendid, brand new black & white 35mm print, and we're delighted to reintroduce audiences to it. Lon Chaney, Jr. stars as Albert Whitlock, scion of an ancient family of witches and warlocks, who doesn't take it kindly when his family graveyard is bulldozed by developer, Bill Lanier (Jack Hedley) and his callous partner. Long-suppressed resentments erupt – the Lanier family had persecuted the Whitlocks for witchcraft in the 17th century – and before you know it, age-old witch, Vanessa (Yvette Rees) is back from the dead. Director Sharp, per usual, evokes great atmosphere from limited resources and keeps things moving at a fast clip. Comparable to HORROR HOTEL and BURN, WITCH, BURN for stark shivers, with a great Barbara Steele-ish turn by Rees as the vindictive sorceress. NOT ON DVD.

THE DEVIL RIDES OUT (aka THE DEVIL'S BRIDE), 1968, 20th Century Fox, 95 min. Director Terence Fisher brings Dennis Wheatley's novel to life, with the Duc de Richleau (Christopher Lee) unearthing a satanic plot to steal the souls of young man, Simon (Patrick Mower) and the mysteriously beautiful Tanith (Nike Arrighi). Charles Gray is suavely sinsiter as Mocata, the occult high priest who'll stop at nothing to get his way. Among master director, Fisher's most intelligent, accomplished achievements, with a briskly fluid camera, a suspenseful patchwork of escalating nightmare setpieces and a perfect evocation of the 1920's. Exciting from beginning to end. (Print is slightly faded.)

Friday, June 16 - 7:30 PM

Christopher Lee/Terence Fisher Double Feature:

New 35mm Print! THE GORGON, 1964, Sony Repertory, 83 min. One of director Terence Fisher's most eerie and underrated masterworks focuses on a German village haunted by Megara, the still potent spirit of the gorgon of Greek mythology, bent on transforming all those who gaze upon her into figures of stone. Local doctor, Peter Cushing, is engineering a cover-up to protect someone (perhaps his beautiful assistant, Barbara Shelley?). Returning Richard Pasco, whose brother and father were petrified-to-death, wants to get to the bottom of the mystery, but gets sidetracked when he falls for Shelley. Soon, desperate Pasco sends for his prickly, sarcastic mentor (Christopher Lee) who proceeds to track down the monster. Filled with a chilling ambience, it remains one of the most dreamlike of Hammer films. NOT ON DVD.

New 35mm Print! TWO FACES OF DR. JEKYLL, 1960, Sony Repertory, 88 min. Hammer producers decided to bring in well-regarded writer, Wolf Mankowitz, to pen this revisionist version of Dr. Jekyll And Mr. Hyde, switching around some elements (such as making good Jekyll homely and evil Hyde a handsome rogue). Terence Fisher directs Paul Massie in the dual role, with Dawn Addams as Jekyll's promiscuous wife dallying with Jekyll's best friend, wastrel, Christopher Lee. Neither Massie's Jekyll or Hyde are whole persons – the "good" doctor is bent on scientific pioneering at the expense of his marriage while seductive, sadistic sociopath, Hyde is obsessed with indulging his senses as well as every egotistical impulse. Fisher, cinematographer Jack Asher and Hammer's production designers conjure up a gaslit, Victorian London, a place where all manner of debauched, amoral characters cavort right below the surface. NOT ON DVD.

Saturday, June 17 - 7:30 PM

Val Guest Tribute - Double Feature:

QUATERMASS II (aka ENEMY FROM SPACE), 1957, Hammer Films, 84 min. Director Val Guest collaborates with writer, Nigel Kneale, adapting Kneale's QUATERMASS XPERIMENT sequel and turns out possibly the finest of the 1950's alien invasion pictures. Not available on the big screen in the USA for over fifty years, we've brought over a 35mm print especially from the UK to rectify the situation. It easily remains the nerve-shredding British equivalent to Don Siegel's INVASION OF THE BODY SNATCHERS, with a furiously relentless pace and no wasted moments. Space expert, Quatermass (Brian Donlevy in a no-nonsense performance) investigates a strange shower of meteorites. Like a ball of string unraveling, he first unearths a plot to take over the British government, then discovers a swarm of protoplasmic creatures living inside pressurized domes at a mysterious industrial plant. With another spine-tingling James Bernard score.

THE QUATERMASS XPERIMENT (aka THE CREEPING UNKNOWN), 1956, Sony Repertory, 82 min. Along with its sequel QUATERMASS II and Siegel's BODY SNATCHERS, one of the scariest science-fiction films from the 1950's. Brian Donlevy stars as writer Nigel Kneale's brusque rocket scientist Quatermass, bent on unlocking the mysteries of space, even if it means his only surviving astronaut (Richard Wordsworth in an amazing performance) slowly mutates into an amoeba-like blob monster! Directed by master, Val Guest, the film hurtles along at breakneck tempo, and served as storm warning of more Hammer horrors just over the horizon. NOT ON DVD.

Sunday, June 18 - 6:30 PM

New 35mm Print! THE NANNY, 1965, 20th Century Fox, 93 min. Director Seth Holt, who had previously worked as an editor and producer at Ealing studios, directed barely a handful of films, and, two of the best were done at Hammer shortly before his premature death at the age of 47. This is arguably his masterpiece and surely one of Bette Davis' greatest later pictures, a brisk, shuddery psychological suspenser, masterfully orchestrated to its nailbiting climax. Devoted nanny, Davis, long in the Fane family household, is beset by rancorous persecution from her young charge, Joey (William Dix) when he returns from an institution. Joey's parents (James Villiers, Wendy Craig) are beside themselves because bratty Joey won't give up the idea that Davis was responsible for his little sister's bathtub drowning years before. Teenager Pamela Franklin is the only one wondering if maybe he's right. Watch for the scene between Joey's aunt (Jill Bennett) and Davis near the end, surely one of the most disturbing in any 1960's shocker. NOT ON DVD.

Ultra-Rare Screening! I START COUNTING, 1969, Sony Repertory, 105 min. An underrated, unusual, low-key mix of coming-of-age story and serial killer thriller that never saw release here in America. Jenny Agutter gives arguably her finest performance as a teenager who develops an obsessive infatuation for her older, foster brother (Bryan Maxwell). Complications multiply as she starts to wonder if perhaps he's the homicidal maniac loose in their suburban neighborhood. But is he really? Agutter's strict, Catholic school upbringing, her romantic fantasies and burgeoning sexuality, her precocious best friend (Clare Sutcliffe), all conspire to pull the wool over her eyes. When the veil of fantasy is brutally ripped aside and cold, hard reality hits, watch out! Director David Greene skillfully puts Agutter's teenage concerns in the forefront, with the sex killer subplot simmering in the background, until the harrowing, last twenty minutes – akin to a glass of ice water in the face and surely one of the creepiest, most-unnerving sequences ever from sixties cinema. With Simon Ward in a small, but important, part as a bus conductor. NOT ON DVD.

Wednesday, June 21 - 7:30 PM

Peter Cushing Double Feature:

New 35mm Print! TORTURE GARDEN, 1967, Sony Repertory, 93 min. Director Freddie Francis follows up Amicus studio's initial omnibus horror film, DR. TERROR'S HOUSE OF HORRORS, with this expertly-handled compendium of four fright tales, all strung together by the spiel of sideshow fortune teller, Dr. Diablo (Burgess Meredith). Five carnival customers (Michael Bryant, Beverly Adams, Barbara Ewing, Michael Ripper and Jack Palance) are offered a look into their possible futures, with ghastly results. Especially macabre is the final entry with Poe fanatic, Palance, paying a visit to the home of fellow collector and Poe-phile, Peter Cushing, something that results in a disagreeably unexpected revelation.

HORROR EXPRESS, 1973, 90 min. Spanish Eugenio Martin (CANDLE FOR THE DEVIL) directs an international cast at a breakneck pace in this splendid, turn-of-the-20th-century thriller. Trans-Siberian Express passenger, Professor Saxton (Christopher Lee) is transporting what he believes to be the remains of the missing link, much to the disappointment of his rival, Professor Wells (Peter Cushing). What the two feuding scholars don't realize is that the huge corpse is really a revived alien creature from outer space. Before long, the monster is boiling the brains of its victims with its red-eyed stare, absorbing their intellects and throwing the train into a panic. A countess, a beautiful spy, a Rasputin-like monk and a cruel Cossack (Telly Savalas, in fine form) are just a few of the characters making life difficult for our stalwart English heroes as they try to thwart the devilish fiend. (Print is slightly faded.)

Sunday, June 25 – 6:30 PM

Peter Cushing Double Feature:

CORRUPTION, 1967, Sony Repertory, 91 min. Dir. Robert Hartford-Davis. You won't believe some of the things that sedate surgeon Peter Cushing gets up to in this deliciously trashy, Mod reworking of Franju's EYES WITHOUT A FACE. When his young model fiancee (Sue Lloyd) has her face disfigured by a falling arc lamp, Cushing becomes convinced that the pituitary gland from another woman will put her right. But he's chagrined when the healing effect wears off. Soon Cushing descends into a hellish rampage of murder - usually by decapitation - to obtain glands! When the couple decide to lower their profile, they make a getaway to a seacoast cottage. However, a gang of violent hippie beatniks (is there such a thing?) invade their haven, more deaths occur and Cushing's laboratory laser goes out of control. Great pulp mayhem. NOT ON DVD.

THE SKULL, 1965, Paramount, 90 min. Director Freddie Francis pours on the atmosphere in this fine adaptation of the Robert Bloch short story, what amounts to the most blood-freezing of Hammer studio's rival, Amicus' many horror efforts. Peter Cushing, a collector of black magic antiquities, covets the skull of the Marquis De Sade, despite its lurid, some say cursed, history. Once it's in his ill-gotten possession, all manner of things start to go terribly wrong, including vividly surreal nightmares and people dying in horrible ways. The great cast includes Christopher Lee as a rival collector, Patrick Wymark as a sleazy dealer, Jill Bennett as Cushing's spouse, with a cameo by Nigel Green as a police inspector. NOT ON DVD.
FANTASTIC FILMS WEEKEND 2006 - BRADFORD UK
Festival News 09.05.06
The National Museum of Photography Film and Television
in Bradford plays host to the annual Fantastic Films Weekend this year from 16-18 June, and it promises to be another great event well worth making the trip for. The Unofficial Hammer Films Site will be in attendance for our third consecutive visit to the festival, as will a hoard of other fans and filmmakers. The festival takes place in one building and over three screens - the charming Cubbi Broccoli cinema, the vast space that is the Pictureville, and the glorious splendour of the IMAX screen. This year promises a live musical accompanied screening of the original Nosferatu, and a hoard of cult British horror including Horror Express and The House That Dripped Blood. Also in attendance is Robin Hardy, who will be signing copies of his new book Cowboys For Christ alongside a screening of The Wicker Man.
For more information and to book tickets go to www.nmpft.org.uk/fantastic
We'll bring you regular updates, but a copy of the first mailout is below:-
Cult filmmaker ROBIN HARDY returns to Bradford
Robin Hardy, the director of The Wicker Man, will make a return visit to FFW following his appearance here in 2002. Robin's new book Cowboys for Christ is published on May Day by Luath Press Ltd and he will join us on Sunday June 18 for a book signing, Screentalk interview and a screening of The Wicker Man . Cowboys for Christ is a book inhabiting the same disturbing territory as The Wicker Man. It won't disappoint fans. Ripping through the themes of religion, paganism, power, sex and sacrifice Cowboys for Christ builds up to its gruesome, excruciating climax under the terrifying imagination of Robin Hardy. Further information from www.cowboysforchrist.info
Supernatural chiller Half Light to open FFW
Universal's eerie new chiller Half Light will officially open FFW2006 on Friday 16 June. A creepy supernatural thriller, Half Light focuses on the emotional breakdown suffered by best-selling mystery novelist Rachel Carlson (Demi Moore) when her son drowns at her London home. Fleeing to a remote fishing village in the Scottish Highlands she wallows in her grief... until she begins receiving messages from her dead child. Unsure whether the messages are real or she is slowly losing her mind, Rachel is plunged into a nightmarish world of madness and murder.
Classics from the vaults
Recently released by the British Film Institute in its original and uncut form, Ishirô Honda's Godzilla (aka Gojira) is the grand-daddy of nuclear-spawned monster-on-the-loose flicks. This iconic rubber reptile will be arriving in Bradford to trample unsuspecting passers-by and generally wreak havoc. FFW is presenting two delicious '70s favourites: Peter Duffell's portmanteau chiller The House That Dripped Blood and Jess Franco's trans-Siberian shocker Horror Express. Both prints have come from the cobwebbed vaults of the NMPFT and both star that timeless double-bill of Peter Cushing and Christopher Lee. We also hope to present the full-length mini series Salem's Lot, starring David Soul and James Mason, the rarely seen gems Behemoth the Sea Monster and Strip Nude Killer and our traditional all-day package of films. Previous offerings have included quartets of the Exorcist and Alien franchises as well as The Lord of the Rings saga. Watch this space for more news.
Darklands - The Director's Cut to make its UK debut in Bradford
Our old friend Julian Richards will return to FFW with the director's cut of his breakthrough movie Darklands, a spine-chilling exposé of paganism in modern-day Wales. The film, which stars Craig Fairbrass, Jon Finch and Rowena King, will run slightly shorter than the original 1997 version, thus tightening up an already nerve-fraying narrative. After several years in limbo writer/director Richards (The Last Horror Movie) has regained control of Darklands and is preparing a director's cut to show to North American distributors at the forthcoming Cannes Film Festival.

FFW is delighted to welcome him back to Bradford with the ultimate version of an unsettling tale that was presented to fans at the very first Fantastic Films Weekend back in 2002.
Short Film Submissions
FFW2006 is still accepting entries for the short films section. Filmmakers should send their submissions on DVD or VHS to:

Short Film Submissions,
5th Fantastic Films Weekend,
Film Department,
NMPFT,
Bradford,
West Yorkshire,
BD1 1NQ.

Passes for the 5th Fantastic Films Weekend are available at £35 (Weekend; £30 concessions and Friends of Film) and £15 (Day; £12.50 concessions and Friends of Film) from the Box Office on 0870 70 10 200.

THE HAMMER STORY :

updated


Book News 09.05.06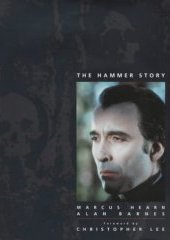 We've already reported that Titan are re-releasing the popular 1990s authorised history of Hammer, The Hammer Story, written by Marcus Hearn and Alan Barnes. We can now confirm that despite a difference in advertised page counts, according to Marcus Hearn, Titan have not opted to do a second edition, rather a straight reprint of the original book.
Effectively this means there is no new material and fans who already have their copy of the original book, need not replace them. Of course if you haven't got a copy yet now is your chance.
Published in hardback, with 197 pages of text and glorious colour images, the book is priced at £24.99. You can pre-order yours now from amazon for only £17 (with free delivery). Click here to order
It can also be pre-ordered from amazon.com for only $22. Click here to order.
EXCLUSIVE : First image of the Gresham Blake Hammer tie
Clothing News 13.04.06
EXCLUSIVE : FIRST LOOK AT THE GRESHAM BLAKE RANGE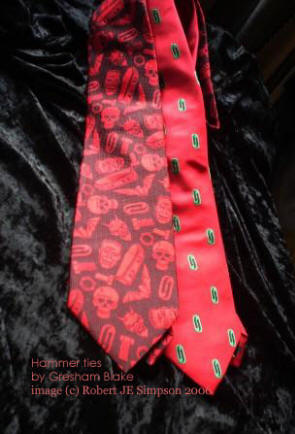 As if it wasn't enough that we were the first to bring you images of the Gresham Blake designer Hammer Horror cufflinks, now we're bringing you the first image anywhere of the Hammer ties.
We've reported here before that designer Gresham Blake has been asked to design a range of clothing inspired by the classic horror films, include a range of suits, a cape and other items. The exclusive range will be stocked at Blake's Brighton boutique, and in selected high street stores. Fans overseas need not panic, as an online shop will also be set up.
The line was first announced back in 2004. And those who are worried that the range seems very masculine at the moment (having already shown the first images of the Hammer cufflinks, Blake had this to say in a press release last year:
"Hammer is a national institution. I am 35 and I can remember secretly staying up late to watch films like Frankenstein and Dracula when I was a child," he said. "The surprising thing is that kids today are doing exactly the same thing. I know of 11-year-olds who are Hammer fans.

"We are planning to produce between 12 and 14 different designs inspired by the studio's films. Some of the designs will be replicas complete with top hats and capes.

"Others will have a wider appeal but still reflect the essence of the studio. We are thinking of high collars on long coats for the men and deep blood red linings on coats and jackets. We are also drawing up designs for a range of frilly shirts which were worn by most of Hammer's leading men.

"It's all about plunging necklines, long gloves and buttons on the cuffs. We are also thinking of panel-back dresses and puffed shoulders. Our plunging necklines will probably plunge a little more than they did in the films."
According to the same release, the women's line will be inspired by the costumes of the likes of Ingrid Pitt. With the launch date for the range now a matter of weeks away. The cufflinks are retailing at £65 per pair, and current discussions concern the presentation of the accessories, planned for special coffin boxes.
We have now seen the first samples of the ties first hand and will be posting a review in the next couple of days. The ties are beautifully made, with two designs available. The first is a repeating pattern of the distinctive new Hammer 'H' logo (thankfully not too distracting). The second contains a pattern of horror-related images, which will no doubt appeal to a wider audience than just Hammer fans. Amongst the items shown are coffins, bats, nuts and bolts, Frankenstein's head, skulls and a demon's head. Plus the obligatory Hammer 'H'. A final Hammer label is to be added to the ties.
A range of colour schemes will be available, but the two shown are predominantly black and red. The 'H' tie has the logo embossed in green - which may not be obvious from the photo here, and detail shot on the front page. We'll bring you better images shortly.
The ties will be soon be available priced at £45 each.
HAMMER NOIR update
US DVD News 11.04.06
We've just received confirmation from Kit Packer regarding the VCI Hammer Noir titles, due out this year. Extras are still to be confirmed, although it is known that some of the discs will feature trailers and advertising features. The digital transfers are, I am told, "beautiful".
Out in June are:
HAMMER NOIR #1 (RR)

BAD BLONDE (79) Barbara Payton

MAN BAIT (78) George Brent

HAMMER NOIR #2 (RR)

STOLEN FACE (71) Paul Henreid

BLACKOUT (87) Dane Clark

HAMMER NOIR #3 (RR)

GAMBLER AND THE LADY (72) Dane Clark
HEAT WAVE (60) Alex Nicol
Providing there is enough interest, the rest of the pairings are as follows:
HAMMER NOIR #4 (RR)

TERROR STREET (84) Dan Duryea

WINGS OF DANGER (72) Zachary Scott

HAMMER NOIR #5 (RR)

PAID TO KILL (71) Dane Clark

GLASS TOMB (59) John Ireland

HAMMER NOIR #6 (RR)

BLACK GLOVE (84) Alex Nicol

BIG DEADLY GAME (63) Lloyd Bridges

HAMMER NOIR #7 (RR)

UNHOLY FOUR Paulette Goddard

SCOTLAND YARD INSPECTOR (73) Cesar Romero
HAMMERWEB RELAUNCHES
Corporate News 11.04.06
It is a sad fact that the last update on the Official Hammer Films Site news page, until very recently, was from August 2002. During the last four years its been up to us here at the Unofficial site, and the magazine editors like Wayne Kinsey and Dick Klemensen to keep everyone up to speed. However, I'm delighted to see that the drought has ended.
HammerWeb re-launched tonight, with a bunch of new news items, many of which we have previously reported on here. There are a few new items, which will be of interest to our readers, and which we comment on below. There's also a wealth of other updates too.
HammerWeb should rightly be the first port of call for anyone wanting to know the official word from the House of Hammer, but here at avalard.com we will continue to publish a range of diverse articles, reviews, critical essays, rare stills and rumours that the Official site couldn't possibly mention. I hope if you are a first timer you'll add us to your favourites, and sign up to our mailing list. For our regulars, its business as usual, and if even half of the things that are on the cards happen, then there'll be more than enough for you here.
Send your emails, comments and more to me at hammer@avalard.com
HAMMER SIGNS MARKETING DEAL WITH MAJESTIC FILMS
Corporate News 11.04.06
Reports in some of the trade papers have been followed up with an official press release on HammerWeb that Hammer has appointed Majestic Films as its exclusive sales agent.
The press release, dated 7 April 2006 advises that the deal includes all film and television programs in the Hammer library which hammer has distribution rights over - over 100 films. Icon is a subsidiary of Mel Gibson's Icon Entertainment, and will handle the catalogue for the next five years (although this doesn't include film clip rights, merchandising rights - which are being dealt with by Coolabi - nor the likes of remake rights). The deal doesn't bind either party with regards to any new product by or acquired by Hammer.
This isn't the first time Icon has handled the Hammer catalogue either, having represented the company during 1990-2000. Peter Naish had been the former chief operating officer at Hammer, responsible for all Hammer's licensing activity since 2000, and is now the Icon head of sales, and so the deal is effectively continuing relationships built up during the last 15 years.
Interestingly for fans the press release makes several points of note. Firstly that the existing licensing deals have been based on the familiar slate of 20 titles (seen in almost identical dvd collections in Germany, Spain, America and the UK). This deal opens up the possibilities of over another 80 different titles, so fans should expect a number of dvd premieres in the next few years.
Secondly, the release states that Hammer "continues to work up new projects for film, television and stage as well as remakes from the back catalogue. Progress on these fronts will be posted on the website."
Whilst it is widely known that Hammer is still attempting a revival in film and television this is the first mention many will have seen of the stage. It is perhaps indicative of a new direction for the company.
The whole press release can be found here.
ANCHOR BAY RETURN TO THE HAMMER CATALOGUE
US DVD News 11.04.06
Reports reached us of some news from the Fangoria Weekend of Horrors convention last month, that 2007 will see a slate of remastered Hammer dvds with new special features. This statement by Tom Bambard of Anchor Bay Entertainment resolves the earlier speculation that Bill Lustig (who holds the rights to the existing Anchor Bay titles) would not revisit the Hammer range.
Whether this will be looking at the HDDVD/BluRay market is of course yet to be established. Until the format war settles, fingers crossed that Hammer fans will be treated to some new titles, and new prints worth forking out for.
DIE DIE MY DARLING
UK DVD News 11.04.06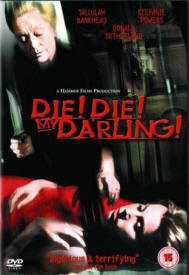 My thanks to Stephen Jones who pointed out this title from Sony Pictures that I'd missed. Die! Die! My Darling (also known as Fanatic) has been released in the UK. The little-seen 1965 Hammer thriller stars Donald Sutherland, Tallulah Bankhead and Stefanie Powers.
The film with a running time of 97 mins, and boasting a 1.85:1 anamorphic transfer, alongside spoken German, Italian and English soundtracks, retails at £12.99, and hit shelves on 27 March 2006.
The dvd can be ordered from sendit.com here or amazon.co.uk here.
GRESHAM BLAKE UPDATE...
Clothing News 11.04.06
We've received some further news on the exciting (and rather exclusively priced) Gresham Blake range of Hammer clothing. The first products to be released through Blake's Brighton boutique (and internet orders) will be the new ties and cufflinks. Designs are being finished, and packaging decided upon. A launch date looks likely for the next two-three months. Ties will be priced at £45, and the cufflinks at £65.
The cape mentioned before, has been designed, but is still being worked upon. Intriguingly, tailor made suits are being prepared now, priced around £395. As soon as images are available we'll post them on the news pages.
GAMING LAUNCH DATES....
Merchandise News 11.04.06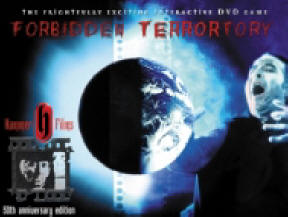 Cover art for the forthcoming Forbidden Terrortory game
We've got further news on both the Gaming chips and the board game.
Gaming chips
Bond International look likely to be launching their range of casino chips and playing cards in July, initially via the internet. We've seen provisional images, and the sets certainly look good (I'm going to have to take up poker after the release!). The chips are embossed with the distinctive Hammer 'H' logo, and some of the sets are to be released in collector's sets, in special movie tins. More details to follow.
Forbidden Terrortory
Development continues on the Hammer dvd-based board game, which was initially launched at the London Toy Fair back in January to great interest. The game, which bears the title 'Forbidden Terrortory' is set to launch in September of this year, and is already listed by a number of high-street retailers. Pricing is still being set, but the set will include specially sculpted figures whcih will also form the basis for the chess set also being produced by Britannia.
Britannia games have a page for the game on their website (but no image yet).
Amazon have the game currently listed without release dates.
Forbidden Planet has listed the release date as 14 September 2006, with a RRP of £34.99. They also include these details:
Game Contents:
3 High Quality Decks of cards all showing clips of the famous Hammer Films
12 Playing Pieces (Hand painted exact replica figurines of the classic Hammer Monsters)
1 Game Board
3 Special Dice
1 DVD Over an hour of Sound and Movie clips that interacts with the game, such as opening of doors, intermittent Day and night scenes showing you which monsters are active.

For 2-6 Players * Age 12 to Adult.

The players are the Rescuers who race against each other and against time to find and rescue the victim and also destroy Dracula before he becomes too powerful. Players have to find and collect the necessary protection to avoid the monsters around Dracula's Castle and eventually find Dracula's victim to rescue her and also destroy Dracula. Players have seven days to complete their mission before its too late. The rescuers will have to be extra careful as they not only have to avoid the monsters but one bite from the vampire and they too become a vampire and from then on have to protect Dracula. Any of the rescuers or newly created Vampire's can win the game.

Release Date : Thursday 14 September, 2006.
THE HAMMER STORY : BACK IN PRINT
Book News 11.04.06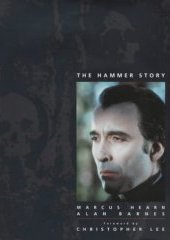 Fans have long praised Marcus Hearn and Alan Barnes' official Hammer history book - The Hammer Story - itself the result of the unexpected cancellation of Marvel's Hammer Horror Magazine back in the mid-1990s. The book is being republished on 23 May by Titan Books.
Published in hardback, with 197 pages of text and glorious colour images, the book is priced at £24.99. You can pre-order yours now from amazon for only £17. Click here to order
It can also be pre-ordered from amazon.com for only $22. Click here to order.
NEBULOUS SERIES 2 - RADIO 4. WEDNESDAYS FROM 5th APRIL. PREVIEWED....
Radio News 03.04.06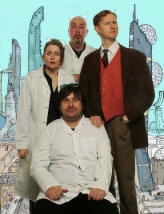 5 April - 10 May 2006
Wednesday 11-11.30pm
The second series of cult sci-fi radio comedy NEBULOUS starts this week on BBC Radio. Written by Graham Duff, and starring Mark Gatiss, this series also includes appearances by Peter Davison, Steve Coogan, and Kate O'Mara.
The episodes are available to listen to for one week after broadcast via the BBC Listen Again Service. Click here for more details from the BBC.
For a preview of each episode, click here.
FORMER HAMMER PRODUCTION MANAGER CHRISTOPHER NEAME APPEARING IN LONDON ON 8 APRIL

Event News 18.03.06
Christopher Neame (not to be confused with the actor who appeared in Dracula AD 1972) joined Hammer in 1965 as a clapper boy on Dracula Prince of Darkness. He worked his way up to second assistant director on films such as Quatermass and the Pit and The Devil Rides Out, before becoming production manager on Frankenstein Must Be Destroyed and six subsequent films.
Christopher's later credits include several screenplays and a stage musical. He recently completed an autobiographical trilogy of books relating to his career, and the first: Rungs on a Ladder: Hammer Films Seen through a Soft Gauze was deservedly acclaimed as one of the classic books on the company.
Christopher now lives in France, but will be coming to London on Saturday 8 April, in order to present a talk concentrating on his Hammer years. Those attending can expect to hear some vivid details of productions filmed at Bray Studios and elsewhere, and memories of Hammer personnel and stars, including Anthony Hinds, Michael Carreras, Terence Fisher, Christopher Lee, Peter Cushing, Bette Davis and Joan Fontaine.
The event has been organised by The Dracula Society and will take place at The Old Star, opposite St. James' Park tube station, starting at 7pm. Admission - including a buffet supper - will be £10.00. Non-members are welcome but need to book by 3rd April. Please request a booking form from Adrian Winchester AdrianW_8-16@tiscali.co.uk
RAZZAMATAZ OFFICIAL HAMMER T-SHIRTS
Accessories News 18.03.06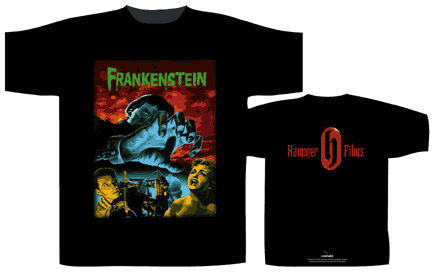 Razzamataz launched their range of Hammer t-shirts at London Edge in January and were astounded by the level of interest. Its the latest new Hammer product now available for the fans. The shirts are high-quality black material, with superb printing. There are shirts for both males and females.
The shirts utilise a number of familiar poster artworks and cult characters including Frankenstein, Dracula, The Mummy and Captain Kronos. One of the things I have no doubt Hammer fans will comment on is the alterations to some of the titles on the artworks - the original poster for The Mummy appears on one shirt under the banner The Revenge of The Mummy. When someone asked what that was, I did comment that it was a made-up Hammer film.
The reason - well, Hammer's license continues to be complicated through the deals established by James Careeras during the 1950s and 1960s. Marketing the new Hammer range is a complicated process it seems, and whilst Hammer might be able to exploit artworks there are often restrictions on names - particularly with the potential for worldwide sales, owing to copyright restrictions.
These are official Hammer products however, licensed by Coolabi on Hammer's behalf. The shirts sport front and rear prints - many of which include the new revised Hammer Films logo. The highly attractive and distinctive shirts retail for under £15 each, and are available around the world.
The shirts are available from here and selected retailers.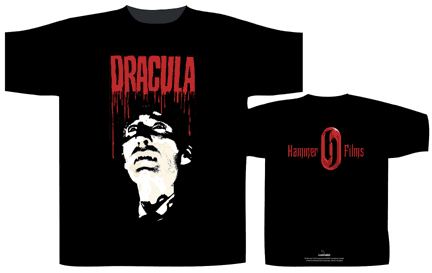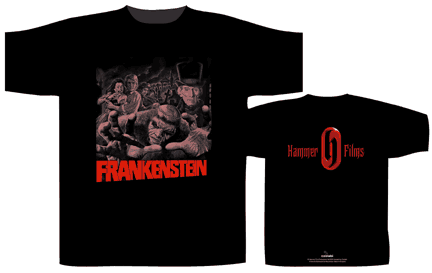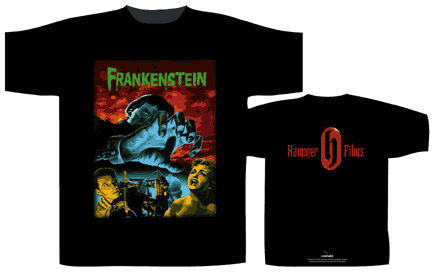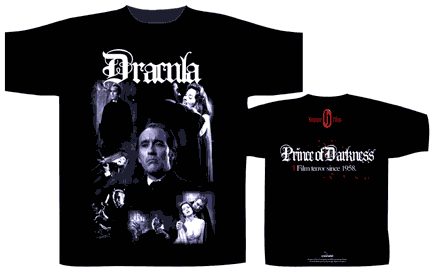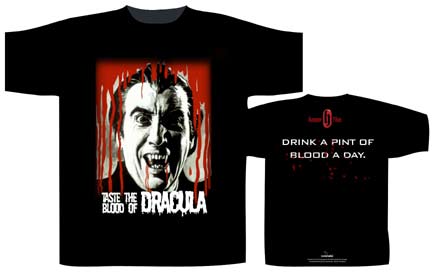 HAMMER ON TOUR??
News 17.03.06
This November marks the 50th anniversary of production starting on Hammer's first colour horror film - The Curse of Frankenstein. And the beginning of the 50th anniversary of Hammer Horror proper. Word has come in of a number of events being lined up to celebrate the anniversary, details of which we hope to be able to confirm in the next couple of months.
Perhaps most promising is the restoration and re-mastering of a new print of The Curse of Frankenstein for the cinema - which will hopefully screen at this year's London Film Festival. One can only hope that this is used for a new edition of the Warner dvd (how much we would all like to see Curse given the special edition treatment).
An exhibition on Vlad the Impaler and Dracula is being planned for Rome which will include Hammer material.
Then there are discussions ongoing for a Hammer exhibition in the UK, which might then go on tour. As soon as we have more we'll let you know.
NEW HAMMER CLOTHING RANGE- GRESHAM BLAKE - CUFFLINKS
Accessories News 17.03.06
Have you ever thought about how much fun it would be to dress up as say Peter Cushing's Van Helsing, or Lee's Dracula... Never mind the superb production design in so many Hammer films, what we all want is the clothing. Not a bunch of t-shirts with the Hammer logo on them (although a licensed batch of these is now available, as we've reported below), but a range of Hammer-inspired apparel that is in the feel of the original costumes.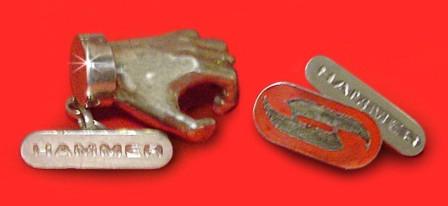 Hammer is making inroads into merchandising in a big way this year, with the help of Coolabi marketing. Part of this licensing programme involved a range of high-end men's gifts. We've already mentioned the gaming chips from Bond International (I've seen the artwork and it looks catching - I'll be interested to see how the final product turns out). What we haven't talked about before now is the clothing being developed by the respected designer Gresham Blake.
Gresham Blake is currently designing a range of designer clothing for men and women, aimed at capturing the Hammer style. His clients include Fatboy Slim, Christian Slater and tv presenter Davina McCall. The range will be on sale at his exclusive Brighton boutique. Blake says "We are planning to produce between 12 and 14 designs inspired by Hammer films. Some of them will be replicas complete with top hats and capes."
We have here an exclusive image of the cufflinks designs which will retail at £65. Blake is doing pairs in both designs, in solid silver and enamel. We'll bring you more information when the design is finished and available.
Also coming soon is a full-length mohair cape, which will retail around £900! Expensive indeed, but promising to be just the thing for the wealthy Hammer fan.
HAMMER DVD BOX SETS - R2
DVD News 25.02.06
DD Home Entertainment are re-releasing some of their Hammer titles as new box sets ideal for those currently unfamiliar with the DD range, and for those wishing to complete collections. Each set retails at £29.99 and includes a range of special features including commentary tracks, trailers and interviews. The sets hit the shops on March 13th.
The Peter Cushing Collection contains DD's special editions of Hammer's The Abominable Snowman and Frankenstein and the Monster From Hell alongside Island Of Terror and The Blood Beast Terror.
Pre-order here
The Hammer House of Mystery and Suspense is being re-released as one box set containing all thirteen films from Hammer's 1983 tv series.
Pre-order here
Hammer Horror: The Early Classics brings together four of Hammer's early sci-fi films, The Quatermass Xperiment, Quatermass 2, X: The Unknown and Four-Sided Triangle.
Pre-order here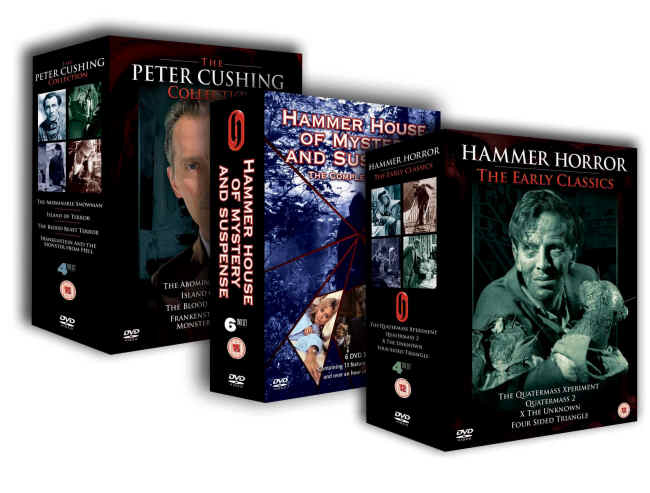 HAMMER HORROR BOARD GAME LAUNCHED - exclusive !!!
Merchandise News 21.02.06
For the last couple of years fans have grown frustrated by the lack of activity seemingly coming from the House of Hammer, with announcements from within the company few and far between. An indication of a change of pace has come with the arrival of a huge number of Hammer films on dvd around the world during the last couple of years. As Hammer continues to exploit its heritage many of the rarer films, including the Exclusive pictures are now also seeing a domestic release at last.
Further indication of activity comes with the arrival of new merchandise, the first of which seemed to have been Product Enterprise's brilliant Dracula figure from last year. Over the next month we will be bringing you up to speed with a whole new range of merchandise from Hammer - the first items in the rebranding of the company. If you haven't already, I'd recommend signing up to our mailing list now (see top of page).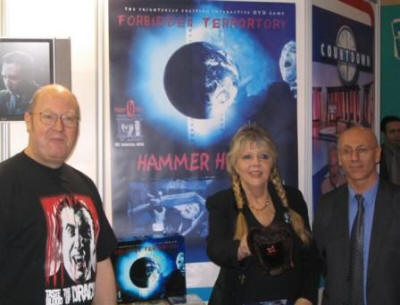 First up is FORBIDDEN TERRORTORY : HAMMER HORROR INTERACTIVE BOARD GAME.
Ingrid Pitt was on hand at the London Toy Fair just a couple of weeks ago to help launch a whole new range of Hammer products (see pic). Britannia Games will be releasing the interactive dvd board game (which from the photo sent looks to be called Forbidden Terrortory (sic) - exploiting the Hammer brand and heritage (and thus bringing to fruition suggestions made by Roy Skeggs back in the 1990s). We'll have full details of the game, release dates and cost in a couple of weeks time. Britannia have yet to issue confirmation of packaging artwork, or dates/cost.
Britannia will also be releasing a Hammer Horror chess set.
Says Britannia Games sales director Ralph Patmore: "The opportunity of acquiring the license for Hammer was too good to miss, we will be able to create a game that brings to life the elements that made Hammer films so successful. The attention to detail that Britannia Games will bring to this game will ensure that it is a must have for all Hammer Fans."
Also coming up from other distributors are a range of high quality gaming chips, which Ms Pitt was also launching at the Toy Fair. The chips are aimed at the high end of the market, and feature Hammer characters and the new "iconic blood-red logo". Its an unusual category, but the company who handle the Hammer license tell us that its "hugely popular with young men at the moment and this is exactly the sort of age group that we see relating to the Hammer brand." (Well, this young man is yet to be convinced, but I haven't seen the goods yet...)
The chips are from Bond International, and they will also be producing collector's tins including high-quality playing cards with "images of Dracula and other Hammer icons on the back."
Says Paul Gent of Bond International: "The Hammer license has provided us with a huge wealth of brand opportunity from a wide range demographic and fanatical fan-base. There cannot be many thirty or fortysomethings, whether film buffs or not, for whom the Hammer brand does not conjure up fond affection. Moreover its historical place within the horror/gothic movie genre ensures that the Hammer legacy and brand are in the conscience of newer and younger fans."
And if that's not enough to whet your appetite, an exclusive clothing range is being developed by a top designer (more on that in due course), and a new range of Hammer figurines is on the cards too - a range of figures, resin busts and ceramic mugs, cookie jars and more.
We'll have photos, pricelists and more for you in the coming weeks.
THE ANNIVERSARY ON DVD
R1 DVD News 15.02.06
Anchor Bay has had Bette Davis 1967 Hammer comedy The Anniversary on their "In the Future" list for a good couple of years. Last week I noticed it had finally moved to their scheduled list on their website, and the cover art has now also been published. Whilst not as impacting a performance as her role in The Nanny, Ms Davis still proves an admirable star, and another indication of Hammer's ability to pull great performances together. Jimmy Sangster tells tales of Davis sex drive on set in his autobiography, no doubt these stories and more will be provided on the commentary.
The disc retails at a recommended price of $14.98 - a bargain, and probably the last Hammer film to come from Anchor Bay for some time to come.
To pre-order click here or on the cover art to the right.
The details as published by Anchor Bay are below: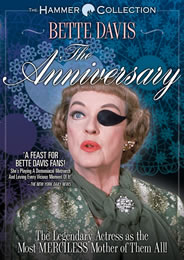 Release Date: 4/4/2006
Length: 95 mins
Picture: Color.
Ratio: 1.85:1 / 16x9
Audio: Mono

Synopsis

The legendary Bette Davis stars as Mrs. Taggart, a venomous one-eyed matriarch who — despite her husband being long dead — demands her three grown sons gather for her 40th anniversary. Eldest Henry is a mild-mannered cross-dresser; middle child Terry is a henpecked weakling; and carefree youngest son Thomas arrives with his pregnant fiancée. But this bumpy night has only just begun, as family secrets will be revealed, cruel insults hurled, and frilly underwear stolen. Even if the siblings can survive the festivities unscathed, does the biggest mother of them all have a shocking final surprise for everyone?

Christian Roberts (TO SIR, WITH LOVE) and Sheila Hancock co-star in this deranged black comedy written and produced by Jimmy Sangster (THE NANNY, WHO SLEW AUNTIE ROO?) and directed by Roy Ward Baker (DON'T BOTHER TO KNOCK, A NIGHT TO REMEMBER) that Bette Davis fans still call one of her most outrageous performances ever!


Features:

Widescreen Presentation enhanced for 16x9 TVs
Theatrical Trailer
TV Spot
Talent Bios
Poster And Still Gallery
Audio Commentary with Director Roy Ward Baker, Writer/Producer Jimmy Sangster and DVD Producer Perry Martin.
EXCLUSIVE NOIR - R1
DVD News 06.02.06
News has come in that a slate of early Hammer/Exclusive films are being released in two-film sets by VCI Entertainment in the US, in association with Kit Parker films, who obtained the films many years ago as part of the Lippert collection.
For most of the titles it will be the first time they have been made available legitimately anywhere on dvd, and for most - the first time legitimately on the home video market at all.
Initial reports suggested a release date of mid-March, but Kit tells us that the dates are still somewhat fluid. In addition to the provisional lists below, SCOTLAND YARD INSPECTOR (aka. LADY IN THE FOG) may be released on a new double bill with UNHOLY FOUR.
All the dvds will be mastered from original negative material (although its currently uncertain about whether the US or UK prints will be used), and will contain extra features -currently still being worked on. The films will be presented in their original aspect ratio.

More on this series as we get it.
The list for the Hammer Noir series is:
The Hammer Noir Series

(Note that most of these had alternate titles for the U.S. release)

Bad Blonde (a/k/a The Flanagan Boy) (1953) Directed by Reginald Le
Borg. A fight promoter's slutty wife (Barbara Payton) talks her
lover into killing her husband.

The Glass Tomb (The Glass Cage) (1959) Dir. Montgomery Tully. Murder
in the carnival, with Honor Blackman and John Ireland.

#2
The Black Glove (Face the Music) Dir. Terence Fisher. A trumpet
player (Alex Nicol) is accused of killing a singer.
The Big Deadly Game (Third Party Risk) (1954) Dir. Daniel Birt.
While vacationing in Spain, an American (Lloyd Bridges) gets mixed
up with a smuggling ring.

#3
Heat Wave (The House Across the Lake) (1954) Dir. Ken Hughes.
Mystery writer Alex Nicol is ensnared in a plot by Hillary Brooke to
kill her husband.
Paid to Kill (Five Days) (1954) Dir. Montgomery Tully. Dane Clark
hires a hit man to kill himself, but eventually tries to call the
deal off.

#4
Man Bait (The Last Page) (1952) Dir. Terence Fisher. Bookstore owner
George Brent gets involved with his sexy clerk Marguerite Chapman,
and somebody ends up dead.
The Gambler and the Lady (1952) Dir. Patrick Jenkins. A gambler
(Dane Clark) tries to escape his seedy past when he falls for a
beautiful high-class lady. Ooh, good title on this one, eh?

#5
A Stolen Face (1952) Dir. Terence Fisher. Doctor Paul Henreid loses
his love, Lizabeth Scott, in the war, so he creates a new one
through plastic surgery, only to be surprised when the first one
shows up and he's got two Lizabeth Scotts on his hands.
Blackout (Murder by Proxy) (1954) Dir. Terence Fisher. An American
in England is invited to marry a gorgeous blonde he's just met, but
he should've been suspicious. Didn't he ever see Homicidal?

#6
Terror Street (36 Hours) Dir. Montgomery Tully. Dan Duryea's
estranged wife has been murdered, and he's been set up to take the
rap.
Wings of Danger (Dead on Course) (1952) Dir. Terence Fisher. Zachery
Scott is trying to clear his dead pal's name from a counterfeiting
charge.
In addition, Kit Parker/VCI are also producing the non-Hammer Forgotten Noir collection:-
FORGOTTEN NOIR #2 (SFN)

LOAN SHARK (79) George Raft (MD)
ROARING CITY (58) Hugh Beaumont

FORGOTTEN NOIR #3 (SFN)

MAN FROM CAIRO (82) George Raft
DANGER ZONE (56) Hugh Beaumont


FORGOTTEN NOIR #4 (SFN)

SHADOW MAN (76) Cesar Romero
FINGERPRINTS DON'T LIE (58) Richard Travis (MD) (SM)

FORGOTTEN NOIR #5 (SFN)

F.B.I. GIRL (74) Cesar Romero (MD)
SHOOT TO KILL (64) Russell Wade

FORGOTTEN NOIR #6 (SFN)

I'LL GET YOU (79) George Raft
PIER 23 (57) Hugh Beaumont (MD)

FORGOTTEN NOIR #7 (SFN)

SCOTLAND YARD INSPECTOR (73) Cesar Romero fair
TREASURE OF MONTE CRISTO (78) Steve Brodie, Adele Jergens (MD) (SM)

UNHOLY FOUR is currently planned for the PAULETTE GODDARD DOUBLE FEATURE
SINS OF JEZEBEL (Color-81) Paulette Goddard, George Nader (Not Hammer, of course)
UNHOLY FOUR (80) Paulette Goddard, Paul Carpenter (T)
HAMMER : THE ELSTREE YEARS
Book News 20.01.06
Wayne Kinsey (editor of The House That Hammer Built) impressed many with his 1999 book from Reynolds and Hearn - Hammer Films: The Bray Studio Years. Three print runs stand as testament to the tome's popularity. Fans will no doubt be pleased to learn that the follow up volume - The Elstree Years is due this year from Tomahawk (publishers of Greasepaint and Gore and Beating the Devil).
Wayne Kinsey reveals the story of Hammer Films from 1967 to present day, following the highs and lows of the company as it bedded into its new home at Elstree. Based on extensive oral history recording with Hammer personnel, the book describes in fascinating detail how the studio would plummet from one of the most successful British Film companies and proud recipients of the Queen's Award to Industry, to the depths of bankruptcy within a single decade. As the British Censor relaxed, Hammer took full advantage, steeping their films in the seventies with sex and nudity as well as ever increasing gore. Even better than Kinsey's previous volume – the acclaimed Hammer Films - The Bray Studios Years, this book is heavily illustrated throughout by rare never before published photos and documents, many taken behind the scenes of the famous "House that Dripped Blood".
To register interest in the book send an email to sales@tomahawkmedia.co.uk with the title of the book in the subject line (Hammer Films - The Elstree Studio Years). The publishers promise to keep you informed of developments.
HAMMER HORROR COURSE IN MANCHESTER
News 20.01.06
We only got to hear about this course the day before it started, hence the late posting, but a message went out to all the subscribers to the mailing list. In the interests of comprehensive Hammer information we're posting details here. Fascinating development, and might still be worth checking out:-
Hammer Horror - A Peculiar British Thing
Starts Wednesday 11 January, 2.00pm to 4.00pm, 8 weeks
Throughout the periodic ups and downs of the British film industry, one studio remained consistently successful - Hammer Studios created an essentially British genre of Gothic horror that continues to remain popular to the present. On this 20th anniversary course, host CP Lee examines the history and background of the studio and looks at Hammer in the context of the Horror genre. Screenings include The Devil Rides Out (tbc).CP Lee is a writer, broadcaster and lecturer in Cultural Studies at the University of Salford.
Beginners' level, no previous knowledge necessary.
Tickets: £40 full/£32 concs
Cornerhouse
70 Oxford Street
Manchester
M1 5NH
Box Office: 0161 200 1500
www.cornerhouse.org
INTO THE UNKNOWN : NIGEL KNEALE
Book News 17.09.05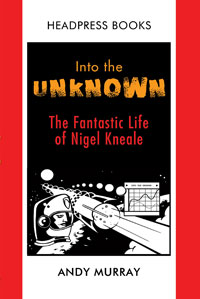 November 2005 will see the publication of a new biography on cult science fiction writer Nigel Kneale, published by Headpress Books, and written by Andy Murray.
Kneale is perhaps best known for his creation of the Quatermass serials (adapted for cinema by Hammer in the 1950s).
Andy Murray's book retails at £13.99.
You can preorder your copy now by clicking here.
PRESS RELEASE

192pp | Available Nov 2005 | Critical Vision

The first full biography of a living legend, drawing on a whole range of exclusive interviews.

Nigel Kneale invented popular television"—Mark Gatiss, The League of Gentlemen

Over fifty years ago, the first instalment of a fantasy series called Quatermass aired on BBC TV. Penned by scriptwriter NIGEL KNEALE, it was a vast success and the big screen adaptation that followed helped place HAMMER FILMS on the international map.

Quatermass was but the tip of the iceberg. Kneale followed it with a horde of astonishing TV work that stands amongst the most original and powerful in the history of the medium—from The Creature and The Road to The Stone Tape and The Year of The Sex Olympics. Blending elements of horror and science fiction with intelligent, powerful drama, many of these works have since been lost, the broadcast tapes wiped, but they continue to influence generations of admirers and filmmakers—amongst them JOHN CARPENTER, DAN O'BANNON, JOE DANTE, JOHN LANDIS, CHRIS CARTER, THE LEAGUE OF GENTLEMEN, the makers of DOCTOR WHO, STEVEN SPIELBERG and many others.

A key figure in popular culture, yet a vastly underrated one, Into The Unknown is the first book to examine Kneale's work and assess its pioneering nature, drawing on interviews with major collaborators and high-profile fans—as well as Kneale himself.

"I myself was writing a science fiction horror film and I worked very hard to understand and to emulate some of what Nigel Kneale had done"—Dan O'Bannon, writer of one of the key films of all time, ALIEN

Kneale was an acknowledged influence on Chris Carter and THE X FILES, and Dan O'Bannon, creator of the ALIEN series

Nigel Kneale's archive work increasingly plays on Public Broadcast TV stations and at festivals, hailed as "classics" and Kneale himself as a "living legend". Much of his movie work is presently available on DVD

The book features lots of inside info on British TV sci fi.
- back to top -