The Royal Mail launched a special set of commemorative stamps on 10 June. The stamps mark 50 years of both the Carry On and Hammer Horror franchises. The six stamps feature the original UK cinema poster artwork from Carry On Sergeant, Carry On Cleo, Carry On Screaming, The Curse of Frankenstein, Dracula and The Mummy.
The stamps are available in a variety of ways over the next twelve months from local post-offices in the UK (well, those that remain after the recent spate of closures) and from the Royal Mail's website here.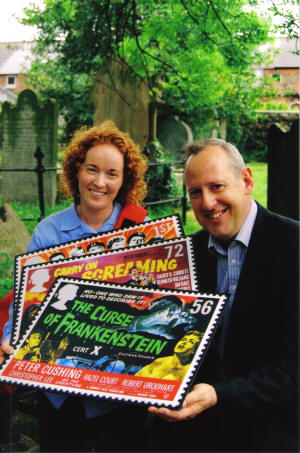 postwoman Andrea Boothman and Samuel Houston from the Royal Mail in Friar's Bush Cemetery, Belfast to promote the launch of the Hammer and Carry On stamps, 9 June 2008.
image © Robert J.E. Simpson, 2008.
The stamps are available in sheets of 50, as presentation packs, first day covers, and post cards (both blow-ups of the stamps, and those with pre-paid postage available).
In London a special launch event included Jimmy Sangster, Fenella Fielding (star of Carry On Screaming and Hammer's Old Dark House
A press release and images of the stamps from the Royal Mail is here.
Unofficialhammerfilms.com were asked to help out with the Northern Ireland launch of the stamps, and editor Robert Simpson helped organise a photoshoot for the local press. The shoot took place in Friar's Bush graveyard in Belfast, with Robert providing one of the Gresham Blake Hammer capes for the photographers.
Samuel Houston from the Royal Mail in Belfast donned the cape, whilst postwoman Andrea Boothman played the part of the screaming victim.