Press release from Royal Mail in Northern Ireland about the commemorative Hammer Horror and Carry On stamps...

9 June 2008


CULT CLASSICS CELEBRATED ON NEW ROYAL MAIL STAMPS

The Hammer Films stamps from the Royal Mail - 48p Dracula, 56p The Curse of Frankenstein and 81p The Mummy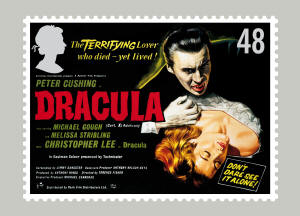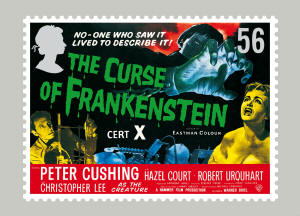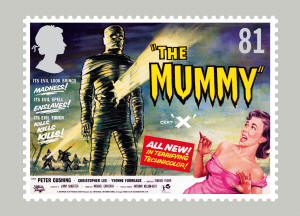 Belly laughs and spine-chilling screams are brought together as Royal Mail celebrates the 50th anniversary of two timeless UK films on six cinematic stamps.
Released on 10 June, the stamps mark the 50th birthday of Carry On and the first Dracula movie by Hammer Films.
Entitled 'Classic Carry On and Hammer Films' the stamps take us back to 1958, a year which saw Pinewood Studios release Carry On Sergeant, on a shoe-string budget, setting a template for a long-running series of comedy films, and Bray Studios, working on an equally tight budget, release the first Dracula horror film with Christopher Lee triumphant as the Count and Peter Cushing resolute as Van Helsing.
Local Hammer films expert Robert Simpson, from Belfast, who runs an unofficial Hammer news and website portal, said "Throughout the 1960's and 70's the general public had a choice like never before with Pinewood and Bray Studios turning out hit after hit in both film genres. People flocked to the cinema in droves, attracted by the imagery they saw on the film posters.

"I congratulate Royal Mail for producing these special stamps and hope that they will entice the younger generation into finding out more and for the older generation that they will evoke fond memories of times when chills and thrills and innuendo were the backbone of a good night out at the cinema."
The six stamps feature original cinema posters of six of the best-known Carry On and Hammer Horror productions and alternate between the two genres of comedy and horror.
National Service caper Carry On Sergeant (1st) is followed by Christopher Lee's sinister Dracula (48p), while Sid James' cheeky sphinx dominates Carry On Cleo (50p).
Lee is back in action as The Monster, seen clawing his way menacingly from the poster of The Curse of Frankenstein (56p), and the Carry On team returns with its classic Hammer spoof horror Carry On Screaming (72p). The Mummy (81p) completes the issue and, like all three Hammer films featured on the stamps, sees Lee in action alongside that other great Hammer stalwart, Peter Cushing.
Barbara Roulston, Head of External Relations, Royal Mail Group, said: "Carry On and Hammer Films had a huge impact on audiences around the world. The stamp issue celebrates and unifies the two very different film genres that spanned decades of British cinema and remain popular today".
Ends
For further information please contact Samuel Houston on (028) 9089 2106. Press Officers are available 24 hours a day. Please call 028 9089 2341 for details of on-call arrangements.
NOTES TO EDITORS
Robert Simpson – Avalard Productions
Robert has written for various websites, magazines, fanzines, books, dvds, conferences and speeches. He is currently working on a comprehensive guidebook to the Hammer Films, a novel and a radio project. He also runs an unofficial Hammer news and website portal at http://www.unofficialhammerfilms.com/ . Robert can be contacted by e-mail on info@avalard.com or on 07906 103702.




Carry On and Hammer, stamp by stamp, film by film:

1st Class – Carry On Sergeant
The very first Carry On film released in 1958 follows the adventures of a hapless group of National Servicemen as they face the culture shock of Army life. Starring Bob Monkhouse, Kenneth Connor, Bill Owen, Shirley Eaton and William Hartnell.
48p – Dracula
Released in 1958 and the first colour version of Bram Stoker's vampire tale, Dracula starred Christopher Lee as the undead, blood-sucking count with Peter Cushing as his nemesis Van Helsing.
50p – Carry On Cleo
Released in 1964, Ancient Briton Henghist Pod (Kenneth Connor) accidentally becomes Caesar's (Kenneth Williams) bodyguard and joins him on a trip to the court of Cleopatra (Amanda Barrie). Sid James is Mark Antony and the film also features Charles Hawtrey, Joan Sims and Jim Dale.
56p – The Curse of Frankenstein
Released in 1957, this retelling of Mary Shelley's classic story was one of the first films to do so in full gory colour. Cushing played Victor Frankenstein while Lee was the creature.
72p – Carry On Screaming
1966 saw a pastiche on the then popular Hammer Horrors, Carry On Screaming follows the adventures of a pair of Victorian detectives (Harry H Corbett and Jim Dale) as they investigate a suspicious showroom dummy factory run by Fenella Fielding and Kenneth Williams.
81p – The Mummy
Released in 1959, an archaeologist, John Banning, (Cushing) is pursued by the Mummy of Kharis (Lee) avenging the desecration of the tomb of his lover who turns out to be the image of Cushing's present-day fiancé played by Yvonne Furneux.