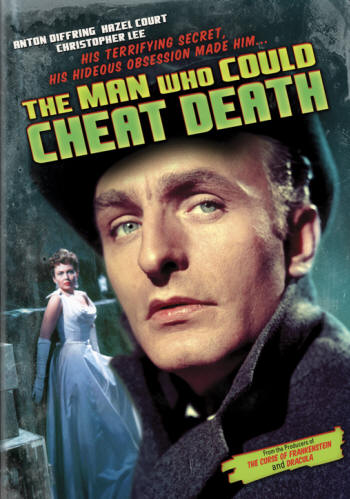 cover art for Legend Films' release of "The Man Who Could Cheat Death", available from July 2008 at Best Buy
Hot on the heels of the release of several titles from the Hammer/Columbia catalogue is the worldwide debut of the Hammer/Paramount picture The Man Who Could Cheat Death, first released in 1959.
The little-seen Hammer horror stars Anton Diffring and Hazel Court in a remake of the 1940s picture The Man In Half Moon Street about a scientist who has found a way to prolong his life through sinister methods.
With co-star Court having recently passed away this is a timely opportunity to reflect on her status as Queen of Horror.
The dvd is being released by Legend Films in association with Paramount Home Entertainment on a Region 1 disc in the US. The dvd will be released initially at a special price in Best Buy stores across the States, before going on sale to the general public.
Presented in a 1.66:1 aspect ratio, the disc does not include supplemental material.
The Man Who Could Cheat Death
Aspect Ratio: 1.66:1
Sound: English (cc)
82mins colour
SSP: $9.99 (through Best Buy)