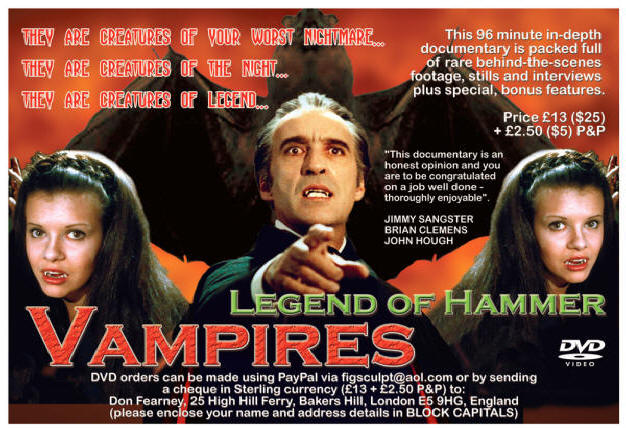 Over the summer, Don Fearney's comprehensive video documentary examining Hammer's vampire films has finally been released on dvd. Don previewed the documentary last year at the launch of Wayne Kinsey's Hammer Films: The Elstree Studios Years book launch, and again at this year's Captain Kronos event, both of which Don organised.
For the dvd release, the documentary has been tightened and now runs at 96 minutes. Including interviews with many familiar Hammer names both in front of and behind the camera.
Of particular interest to fans is the contributions from actor John Forbes-Robertson and screenwriter Tudor Gates who both died recently.
Extra features include a Tudor Gates interview, a rare archival sound recording interview with writer/director John Gilling and a gallery of production designs related to the vampire films.
All in all a splendid package which should delight Hammer vampire fans.
The dvd is £13 ($25) plus £2.50 ($5) post and packing. Orders can be made via Paypal to figsculpt@aol.com or sending a cheque in Sterling currency (£15.50 total) to: Don Fearney, 25 High Hill Ferry, Bakers Hill, London E5 9HG, England. Don't forget to enclose your name and address details in BLOCK CAPITALS.