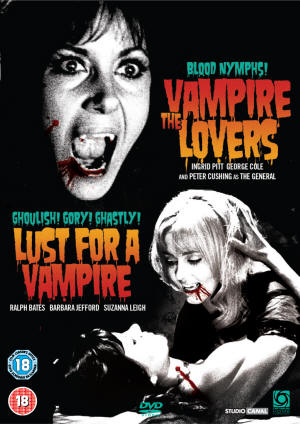 With little fanfare Optimum Releasing are bringing together the first two instalments in Hammer's Carmilla trilogy (based on the novella Carmilla by Irish author J. Sheridan Le Fanu) on dvd in the UK for the first time.
Both films are presented in a 16x9 anamorphic ratio (approx 1.85:1) with extras limited to theatrical trailers for each film.
Lust for A Vampire has been previously available, but The Vampire Lovers previous UK dvd release was on a poorly-distributed disc from little-known independent company ILC in 2002, and has long been deleted.
The Vampire Lovers ushered in a new phase in Hammer's use of exploitation with copious amounts of nudity and a lesbian vampire plotline to keep audiences and the co-producers at AIP enthralled. Lust for a Vampire was the rapidly commissioned sequel, and would itself be followed up by Twins of Evil.
The dvd retails for £15.99 and can be bought via the links on the right.