Coolabi, the company that handles Hammer's brand licensing, has revealled details of several new merchandise lines for the coming year. Coolabi have been controlling Hammer's brand identity with regards the back-catalogue of classic horror (and other) titles for several years now, revitalising the Hammer name as a brand for horror-related merchandise. The availability of officially licensed merchandise has slowly begun to erode the proliferation of poorly-made bootleg merchandise on the market and to clear up the complex rights issues which have previously prevented merchandise from being released.
Coolabi issued a press release last week announcing a new licensor in the Barcrest Group. The company has been given a Europe-wide licence to produce a range of amusement and gaming machines with Hammer Films themes. The first launch is expected in the fourth quarter of 2008 in the UK, with a range of reel and video-based games targeted at the pub, arcade and bingo sectors.
Tim Kennedy, Sales & Commercial Director for Barcrest Group says: "Horror themes have long been popular with games players in arcades, pubs and bingo clubs. Add the iconic and universally known Hammer brand and you have what we feel will be a winning combination."

Janet Woodward, Head of Licensing with Coolabi, the global licensing agent for the Hammer Films brand, adds: "The visually arresting images associated with the Hammer brand are perfect for the amusement industry and Barcrest Group, with its leading role in that industry, is the perfect partner to bring Hammer to the gaming sector."
In earlier news, a press release published on the official Hammer website in February, Coolabi revealled the following new licensors:
The Royal Mail, who have just released a set of commemorative stamps. For more on the Royal Mail stamps click here.
Milliprint has produced a range of eight metal signs featuring artwork from classic Hammer posters - the signs are 400x300mm in size and cost £12 each.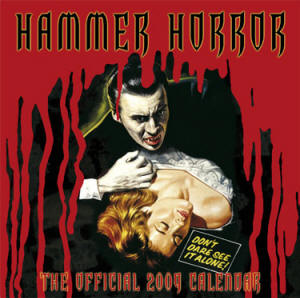 A 2009 calendar has been confirmed for production by Slow Dazzle. The poster promises a "stunning collection or rare poster art and film images", a brief history of the company and the calendar includes "landmark dates from the company's blood-soaked history" for trivia buffs. Fans of the genre might also be interested to learn that Slow Dazzle has plans for both a Wicker Man and Carry On Screaming calendar too.
Following on from the Gresham Blake line of bespoke Hammer clothing in 2006, Arnold Wills and Co. has crafted a range of accessories "tastefully branded", including cufflinks, handkerchiefs and wallets. The range promises high quality but at an affordable price. The line is expected in the second half of 2008.
The February press release also notes that Titan's The Hammer Story book has been reprinted and is now available in the UK, US, Australia and New Zealand.