The Paul Robseon Collection is released by Network DVD on 28 January 2008 priced £39.99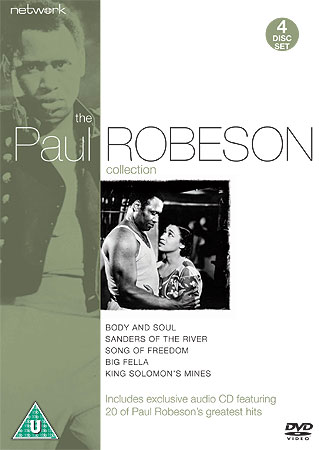 2008 gets off to a great start for Hammer fans, with the long awaited UK dvd release of Song of Freedom as part of the Paul Robeson Collection on 28 January 2008.
Song of Freedom is one of the earliest ever Hammer Films. Produced in 1935 it was actually only the third film that the company made, after The Public Life of the Henry the Ninth (1934) and Mystery of the Mary Celeste (1935). The feature stars American singor and actor Paul Robeson as a West African descendant who uses his singing talents as a way to connect with his people. Co-starring Elizabeth Welch, directed by J.Elder Willis and produced by Will Hammer and Enrique Carreras.
Robeson was given approval on the final cut, a rare move in those days. Significantly, Song of Freedom is the only time in Hammer's history when a black actor took the lead.
Song of Freedom has been released many times in the US on inferior bootleg copies, the copyright ownership of the film having been long debated. This is the first time that the film will see its way to a legitimate dvd release in the UK.
Network's four-disc box set includes four other Robeson vehicles, including Big Fella - which reunited much of the same cast and crew as Song of Freedom. Collectors will be pleased to learn that the fourth disc features a 20 track cd of classic Robeson tracks, including some of those featured in Song of Freedom.
The set retails at RRP £39.99 and is released on 28 January 2008.
You can order your copy from our affiliates for a discounted price of £28.89 including free p&p to the UK here.
Further information on the set, from the Network site is below:
Actor, athlete, singer and civil rights activist, Paul Robeson was a true polymath Renaissance Man who could sing and speak in more than twenty languages. A huge role model for African Americans during the twenties and thirties he is best known in cinematic circles for the films he made in Britain in the 1930s which showcase his fine singing voice.

DISC ONE:

BODY AND SOUL: A dissolute, venal black preacher shows up in a seedy speakeasy full of criminals and cardsharps, then appears to be trying to dupe a pious mother into marrying off her daughter.

SANDERS OF THE RIVER: Sanders has established peace in the river district of West Africa where he is a British Resident Commissioner. His probationary chief, Bosambo, uses Sanders' orders to free a slave convoy.

DISC TWO:

SONG OF FREEDOM: A successful British concert singer discovers he is descended from a West African queen whose tribe is now leaderless. He goes to Africa where he is met with hostility - can he win their hearts and minds?

BIG FELLA: A Marseille dock worker befriends a small boy who has lost his parents after arriving on an ocean liner. Can he reunite the young lad with his parents?

DISC THREE:

KING SOLOMON'S MINES: Fortune hunter Patrick O'Brien is on a trek across the desert in hope of finding the fabled diamond mines of Solomon. His daughter persuades hunter Allan Quartermain to lead a party to rescue him.

DISC FOUR:

Exclusive audio CD featuring 20 of Paul Robeson's greatest hits, including Ol' Man River, The Lonesome Road and Lazy Bones.

Catalogue Number: 7952762
Classification: U

Picture: 1.33:1 / Black and White
Subtitles: None
Time: 400 mins approx
Barcode: 5027626276249
Number of Discs: 4
Sound: Mono / English / Silent
Region: 2 / PAL
Order your copy from amazon.co.uk here.
Order your copy from sendit.com here.