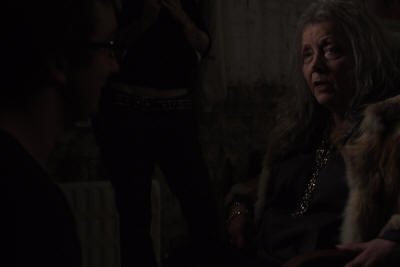 Ingrid Pitt in Beyond the Rave, the new Hammer Films production. Image courtesy of Hammer Films/Pure Grass Films.
Unofficialhammerfilms.com has been sent two previously unpublished photographs from Beyond the Rave, the new eagerly-awaited Hammer production. The first features Ingrid Pitt in costume from the film, the second features Jake Maskall as Strigoi.
Gorezone magazine brought several members of the Beyond the Rave team to the Memorabilia collectors fair in Birmingham back in November, providing fans their first opportunity to meant the cast and crew and to see the extended preview trailer. A Q&A took place on stage.
It has now been officially announced that the film will be released via myspace in installments, with a commercial dvd to follow later in the year.
The decision to release the film via viral marketing, and through the online community has been met with some resistance amongst the fan community who have suggested that Hammer are incapable of producing a theatrical film. It should be noted that the announcement of the take-over of Hammer in May of 2007 included information about a $50million seed fund for future development. Beyond the Rave has been produced on a low-budget, and looks set to use viral marketing to create awareness of the Hammer brand as a prelude to future productions proper. The media around the world has been filled with stories about Hammer's plans in recent months, and internet forums have featured many heated debates about the company.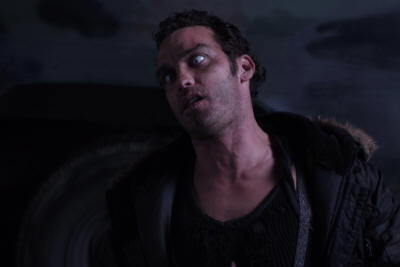 Jake Maskall as Strigoi in Beyond the Rave, the new Hammer Films production. Image courtesy of Hammer Films/Pure Grass Films.
The high-profile cast includes DJ Pete Tong, Sadie Frost (former partner of Jude Law), and the legendary scream queen Ingrid Pitt. The film has been co-produced by Pure Grass Films, the company behind previous online horror series When Evil Calls.
According to online sources Hammer are looking at two or three theatrical productions to commence filming this summer. A remake of Quatermass and the Pit is thought to be amongst them. The late Nigel Kneale's science fiction series has been central to Hammer's success in the past, and during the 1990s a $40million remake of The Quatermass Xperiment was being developed between Hammer and Warner Bros.
A dedicated website for Beyond the Rave, including links for the teaser trailer is at www.beyondtherave.net