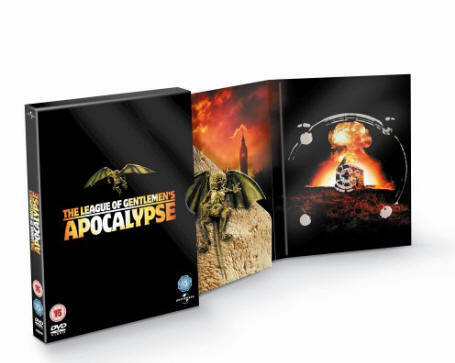 If Hammer were still making films today I suspect that the spin-off film The League of Gentlemen's Apocalypse (based on the popular BBCtv comedy series) would have fitted right in with their remit.
Released in cinemas to great acclaim back in June the dvd of the film is being released on October 3rd in the UK, and retailing at £19.99.
There are several different covers available, with the standard edition, and three separate sleeves from HMV (featuring the film's minor stars Papa Laz, Tubbs and Edward); as well as an exclusive sleeve from Amazon (our favourite - see pic left).
"To save their world... they're coming to ours.
The League of Gentlemen bring their hilarious and monstrous creations to the big screen. Everyone's favourite town Royston Vasey is facing disaster and the only way to save it is for the locals to travel to a new and exciting world... ours!

From present day Soho to the fictional film world of 17th Century Britain, the residents must overcome countless bizarre obstacles in their bid to return Royston Vasey to safety. "

David Warner (The Omen, Straw Dogs, Nebulous) guest stars alongside Mark, Steve, and Reece. Briliantly funny and packed with extras including deleted scenes, commentary et al.
For best price, we recommend purchasing from our online affiliates at Amazon here, where pre-orders are only £11.99 (our link is for the exclusive edition).