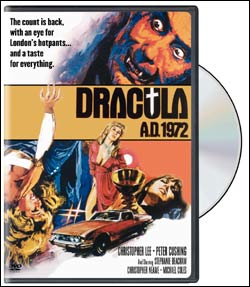 The last of Hammer's Dracula adaptations to make it to dvd is their "modern" take on the myth, DRACULA A.D. 1972, and its swinging its way from Chelsea to your dvd player on both sides of the Atlantic in October.
The dvd includes a theatrical trailer, 1.0 mono sound, and a 1.78:1 widescreen ratio.
The UK edition is due on 31st October with an RRP of £15.99. To order (for only £11.99) click here.
The US edition is due on 4th October with an SRP of US$19.97. You can order by clicking here (international shipping available).
All Images © 2005 Warner Bros. Entertainment Inc. All Rights Reserved