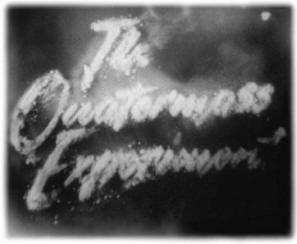 Since the last update, news has come in that alongside the BBCs release of the original Quatermass series on DVD on April 4th, BBC4 will be screening a brand new version of The Quatermass Experiment on April 2nd.
As part of BBC4's TV On Trial season, the channel plans to screen its first live tv drama in over 50 years. The original Quatermass Experiment was broadcast over six weeks in 1953 and starred Reginald Tate at the Professor . Scripted by Nigel Kneale, Hammer would adapt it the following year as The Quatermass Xperiment, directed by Val Guest and starring Brian Donlevy.
The original series proved essential viewing (the only two episodes of which were recorded, are featured on the dvd set being released next month -see story below), and two tv sequels followed during the 1950s, Quatermass II (1955), Quatermass and the Pit (1957) - the latter starring Andre Morell. Hammer adapted Quatermass 2 in 1956, again with Brian Donlevy in the lead, but it would be 1967 before Andrew Keir would star in the final adaptation (this time in colour) of Quatermass and the Pit.
Attempts to bring a fourth in the series to the cinema through Hammer in 1970 stalled. It would be 1979 before the Professor returned, this time in a bleak apocalyptic vision (Referred to as either Quatermass or The Quatermass Conclusion). The four hour ITV series (released as a 100 min movie in the US) starred John Mills, and would prove to be the finale to the run.
Andrew Keir returned to the role in the mid 1990s on BBC Radio, in the Quatermass Memoirs.
The new adaptation from the BBC will last two hours, and will be filmed at a disused Ministry of Defence base in Colsham, Surrey. The serial has been adapted by Richard Fell (The Alan Clark Diaries). Kneale is acting as a consultant. We'll have more information on this closer to broadcast.
The 2005 cast have just been announced:-
Jason Flemyng - Professor Bernard Quatermass
Andy Tiernan - Caroon
David Tennant - Bricoe
Mark Gatiss - Paterson
Isla Blair - Blaker
Andrew Bower - Fullalove
Indira Varma - Judith
The drama is being directed by Sam Miller (This Life, Quite Ugly One Morning, Elephant Juice, and Among Giants). Nigel Kneale has collaborated on the script as a consultant.