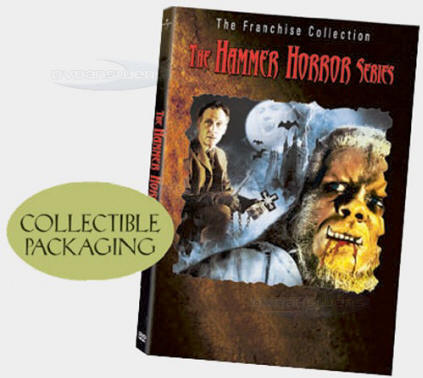 Universal in the US are releasing a brand new series called THE FRANCHISE COLLECTION, with THE HAMMER HORROR SERIES box set (reportedly 2 double sided discs, containing 8 films, and retailing at around $30) due out 6th September.
The box is the first time Universal have released any of their Hammer properties themselves (KISS OF THE VAMPIRE was released previously through Image Entertainment), and contains a number of previously unavailable pictures. The set contains anamorphic widescreen prints of each of the films, and rumours are circulating about extras (though this does seem unlikely at present).
The complete list: NIGHT CREATURES (CAPTAIN CLEGG); KISS OF THE VAMPIRE; PHANTOM OF THE OPERA; PARANOIAC; NIGHTMARE; BRIDES OF DRACULA; EVIL OF FRANKENSTEIN; CURSE OF THE WEREWOLF
A must have for Hammer fans the world over. We'll bring you more information nearer release including a guide to the best place to pre-order your copy (wait till August is my advice!).