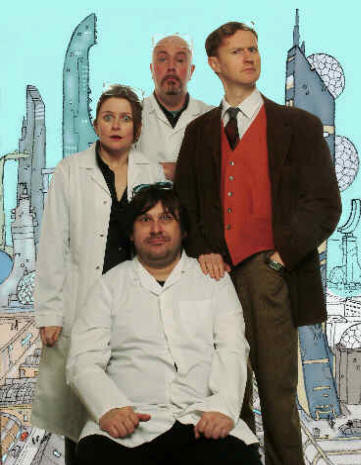 BBC Radio 4 is currently airing a new sci-fi sitcom, called Nebulous on Thursday nights at 11pm (GMT). The third instalment can be heard this Thursday night, with the second episode available until then on the BBC's listen again service.
The series stars Mark Gatiss from The League of Gentlemen, as Professor Nebulous, the leader of a secret governmental unit called KENT, and is written by Graham Duff, who previously scripted the Hammer/Amicus/Tigon spoof anthology series for BBC 2, with Steve Coogan, Dr Terrible's House of Horrible.
Nebulous has been referred to by some critics as "Carry On Quatermass" and has more than a few nods to the popular 1950s series, adapted by Hammer, and to the BBCs Doctor Who.
We'll be publishing a review this week, with Graham, as well as reviews of the series, which I have been finding very funny.
To find out more, or listen again go to: www.bbc.co.uk/radio4/comedy/nebulous.shtml