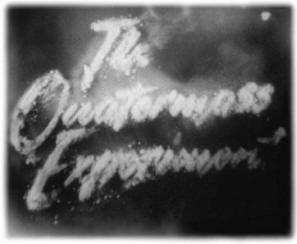 Official figures state that the live version of The Quatermass Experiment which went out earlier this month on BBC4 here in the UK, received around 500,000 viewers. Whilst seemingly a small audience, it was well received amongst satellite channels, and provided BBC4 with its biggest audience in a year.
Jason Flemying starred as Professor Quatermass, with future Doctor Who David Tennant and League of Gentlemen performer Mark Gatiss, and Isla Blair amongst the support.
Bootleg copies have already been showing up on ebay, but the BBC is planning to release the serial on DVD at a later date (possibly this year), including behind the scenes material.