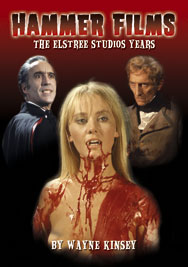 Looking forward to seeing you all at the Legend of Hammer event on Saturday 27th January. We've moved the event from Islington back to the Cine Lumiere in Kensington where the Jimmy Sangster and Hammer - the Bray Years books were launched. Anybody who attended these past great events will know what to expect. The event is organised by Don Fearney who put together those incredible two Bray open days and he can be relied on to put on a great day.
The tickets are £23 for a full day's entertainment (10-7pm). For your admission price you'll get:
* Two Hammer vampire classics on the big screen in the Cine Lumiere's fully equipped cinema - Brides of Dracula and Kiss of the Vampire.
* Also on the big screen will be the premiere of Don's feature length documentary 'The Legend of Hammer - Vampires' narrated by Edward De Souza and shot on High Definition video. This has been put together with the full enthusiasm of a Hammer fan and there's a great affectionate opening pre-credit sequence emulating the great days of Hammer horror starring Don along with John Cater and John Forbes Robertson. The documentary features some great new interviews including Christopher Mathews talking about 'Scars of Dracula' for the first time on film and some great scoops including rare footage of the Queen's award for Industry ceremony and Les Bowie's test SPFX footage for 'Taste the Blood of Dracula' .
*There's the official launch of 'Hammer Films - The Elstree Studios Years' with a guest panel signing along with me. The book is almost there and is looking great. It carries on from the Bray book but this time is bigger and bolder - over 420 pages with over 500 photographs - many never published before. Lots of behind the scenes shots from rare surviving contact sheets. Plus some great scoops never published before. A one time opportunity to get the book signed by a number of Hammer guests. The book will not be available elsewhere till after the launch. We'll be taking plenty of copies along so you will be able to get books signed for friends who can't make it.
* Plus, like the previous events, we'll have many guests from Hammer just dropping in for the day. The Bray event attracted over 20 passing Hammer guests (with some surprises - remember Yvonne Romain?) and we're hoping to beat that this time. Given the fact we are launching the documentary and Elstree book we'll have the excuse to invite guests from both the Bray and Elstree years. The guest list is still being formulated and invites are being sent far and wide but we're hoping to arrange a special reunion for one of the films showing, Kiss of the Vampire, with Edward De Souza, Jeniffer Daniel, Don Sharp, Alan Hume and Pauline Harlow. Your unique chance to chat with them and get some great signings.
*Plus a chance as always to meet old friends.
Tickets available from Don Fearney. If you've not got an application form yet give him a call on 0208 8066915
The scale of this event depends on you. The more money up front the bigger the guest line up can be. So please get ordering your tickets now and don't leave it till the last minute. We want to make sure we bring the right numbers of books over and make this as big an event as possible and we really need your support to start crystallising that guest list and guest signing panel now.
Thanks for your support and hope to see you there!
wayne Kinsey
November 2006